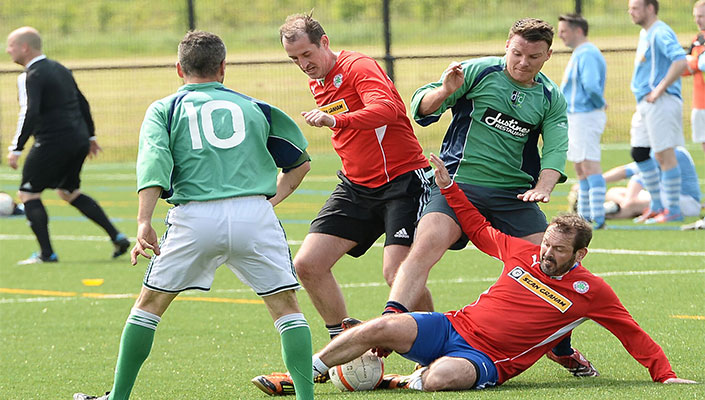 The second national Back in the Game festival took place on Saturday 28
th
May at Valley Leisure Centre in Belfast.
The event was a huge success with 28 teams taking part; double the number who participated last year.
The Back in the Game programme launched in 2015 with the aim of providing long-term opportunities for men and women to re-engage with football. It focuses on physical activity as well as mental and nutritional awareness.
Football – Food - Friendship
The social aspect of football is a big part of the programme and this was evident at the festival. After playing, the teams enjoyed food and refreshments while reliving the highs – and lows – of their performances. The day also saw players, their families and friends participate in a one mile fun run, with participants entered into a prize draw for a chance to win hampers, vouchers and Irish FA goodie bags.
Get Involved!
With former Manchester United and Northern Ireland legend Sammy McIlroy as Back in the Game Ambassador, the programme is set to expand extensively throughout 2016 and beyond. Currently, men can play in 35+, 45+ or 50+ age groups, while women can participate at 30+. The benefits of playing include better physical and mental health as well as the chance to meet new friends.
To get involved or find out more, contact Ian Stewart at ian.stewart@irishfa.com & watch the video below.