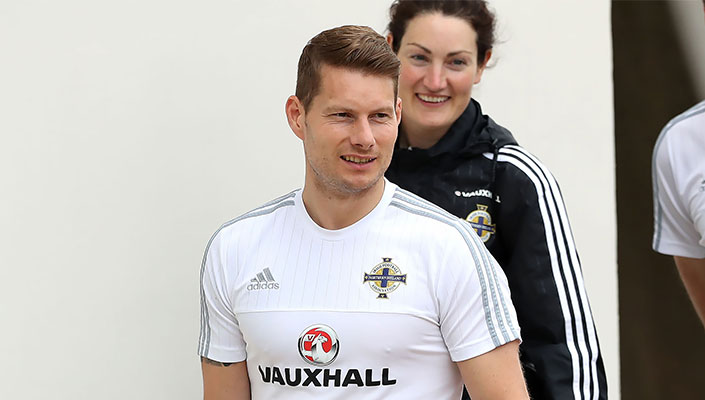 Michael O'Neill and his players rightly received plenty of plaudits for reaching the European Championship Finals. But they would all agree the backroom staff also played a key role in helping Northern Ireland qualify for their first major tournament in 30 years – and they are doing so again in France during Euro 2016. Among the unsung heroes who make up the team behind the team is sports therapist Paul Prentice…
As a crew commander in the Northern Ireland Fire and Rescue Service, Paul Prentice regularly finds himself dealing with emergencies, and often life and death situations.
So looking after a group of footballers is a bit of a breeze in comparison.
Away from his day job at Knock Fire Station on Belfast's Upper Newtownards Road, Paul is sports therapist for the Northern Ireland team.
It's a role he has been undertaking for 11 years and he has only missed one game home and away in that time. And he only missed that game – a draw in Portugal – after contracting a nasty virus.
Paul, who was once on Linfield's books and played at under-15, under-16 and U18 level for Northern Ireland, started working with the Northern Ireland team after a chance meeting with former team physio Terry Hayes.
He initially concentrated on sports massage but his role has evolved to include spinal alignment, joint manipulation and preventative injury treatments. And he undertakes rehabilitative and restorative treatments if injury occurs.
Paul works alongside the Northern Ireland team doctor and physiotherapists to decide which treatment is best for individual players.
The 35-year-old revealed he enjoyed providing treatments for the players in the training camps in Manchester, Co Kildare and Austria prior to their arrival in France this month.
And, naturally, he is also enjoying working with them now that Euro 2016 is under way.
He explained: "Normally when the players are on international duty they are not together for long so we only get to do the various treatments in short, sharp bursts.
"The key treatments being provided in France are similar to those provided at home but because we are with them for a longer period of time right now we can also introduce treatments that they would normally only get at their clubs.
"For example, we have been able to introduce yoga and bring in osteopaths and chiropractors where needed. It means the players get a continuity of service and treatment."
He also revealed the players' treatment plans are being geared around the games in France.
The sports therapist explained the match schedule represents a challenge for the medical team and himself as the players need to make quick recoveries in trying to maintain peak fitness.
"So far we have been lucky with injuries, and let's hope it stays that way," he added.
Paul has a diploma in sports therapy from Belfast Institute as well as certificates in advanced techniques, including spinal corrective alignment and spinal manipulation.
He has been self-employed since he first qualified as a sports therapist in 2004. He has his own private clinic in Donacloney, Co Down.
Apart from the Northern Ireland team, he has worked with Irish League and amateur teams, Antrim GAA and Dunloy hurling team.