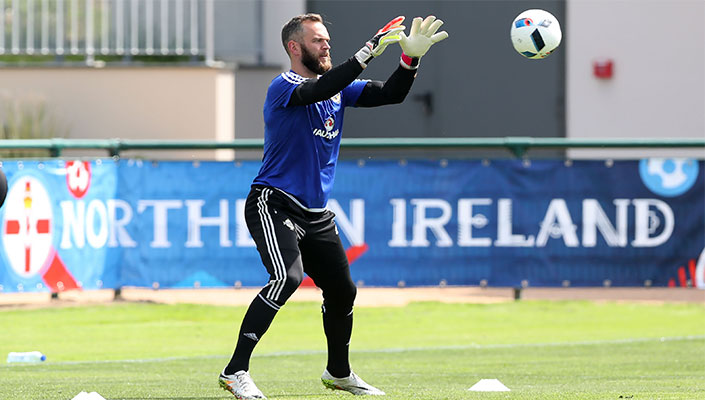 Northern Ireland goalie Alan Mannus is thrilled to be part of his country's Euro 2016 squad.
He admits when he was plying his trade in the Irish League with Linfield for many years he never thought he would ever get to play for Northern Ireland let alone be involved in a major tournament.
But now that the 34-year-old is a mainstay in the squad he considers it a huge honour.
He pointed out: "I played part-time football with Linfield until the age of 27. Unless you go across the water at 16 or 17, like the majority of the lads in our squad, you just don't think you are ever going to get the chance to play for your country.
"So obviously to be involved for so long is something I never expected. I certainly don't take it for granted and it's an honour for me to be involved."
Alan made his debut for Northern Ireland back in 2004 but it was not until he moved into full-time football with Shamrock Rovers in the summer of 2009 and subsequently Scottish side St Johnstone two years later that he became a regular fixture in international squads.
The grounded goalkeeper is a realist. He knows he is the third choice keeper in the squad. However, he says he will be fully prepared if called upon.
He said: "Like a few of the other players in the squad I am thinking that I am unlikely to be involved in the action. All I can do is work hard in training and then see what happens.
"Obviously I want the lads involved to do well. However, I would love to play some part. That would be right up there with other highlights in my career."
The St Johnstone keeper further revealed everyone in the squad is ready for action.
He said: "I think everybody is just ready now for Sunday and just can't wait until the game gets here. We have been together now for a few weeks and we are ready to go."
Alan has really enjoyed his Euro 2016 experience so far.
"Everything has been brilliant, the facilities, the hotel, the food, the travel arrangements, everything couldn't be better. The training pitch is brilliant as well," he said.
He also likes the personal touches, such as pictures of close family, personalised towels and various other items, which have been provided in players' rooms.
He said: "Everyone in the Irish FA has gone out of their way to make it as good as possible. We can't have any complaints at all about anything."
Meanwhile, Alan is looking forward to teaming up with Paul Paton at St Johnstone next season.
The midfielder, who did not make Michael O'Neill's Euro 2016 squad, signed for St Johnstone from Dundee United earlier this week.
Alan said: "I have only been in a few squads with Paul with Northern Ireland. He's a good player, a strong, tough tackling midfielder, and he's good on the ball. He seems like a good guy and I think he will fit in well at St Johnstone."