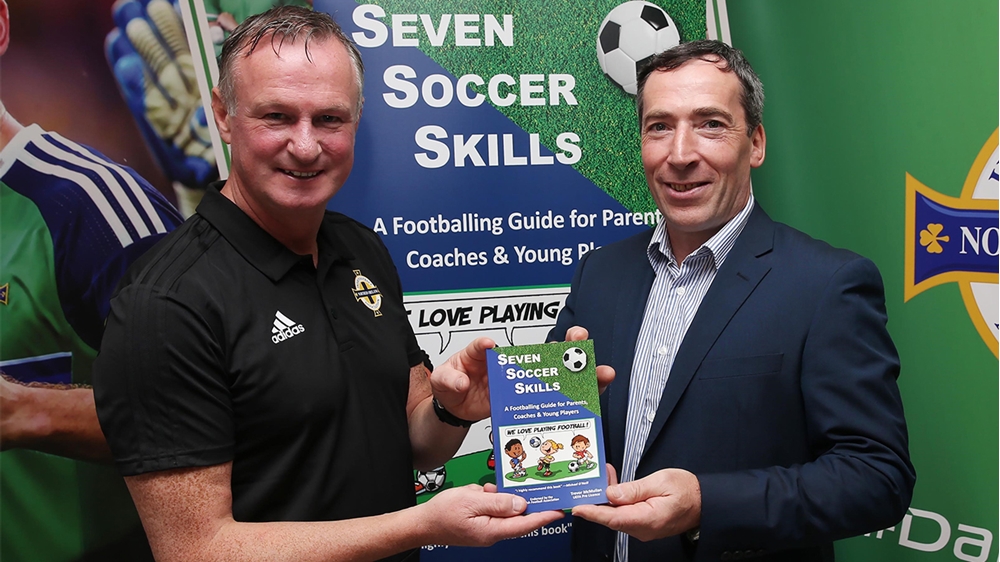 The Irish FA and Northern Ireland manager Michael O'Neill have endorsed a new book which encourages the development of young football players.
Former Irish League stalwart Trevor McMullan is the author of Seven Soccer Skills, which takes an original approach to teach boys and girls the seven essential techniques of the sport - and to have fun doing so.
Each chapter has a section dedicated to parents, coaches and young players and the book's structure gives readers a clear understanding of their respective roles in the development of the young player.
There are also 'You're The Ref' pages which offer a fun and challenging way to learn the laws of the game. Northern Ireland manager Michael O'Neill said the author had used his wealth of experience, both as a coach and as a player, to provide "a valuable resource of tips and information".
And he added: "Seven Soccer Skills supports the ethos of Let Them Play, the Irish Football Association's youth football strategy, which strives to create a fun, safe and inclusive culture, thus inspiring a lifelong love of the game. I highly recommend this book."
Trevor McMullan gained his first coaching qualification with the Irish FA at the age of 19. He continued to work his way up the coaching ladder, obtaining a UEFA Pro Licence in 2007. Throughout his 20-year playing career McMullan clocked up more than 750 games in the Irish League. He played with distinction for Ballymena United (three separate occasions), Larne, Glenavon, Coleraine, Crusaders, Linfield, Newry and Armagh City.
The author explained: "This book came about as a result of years of experience teaching young football players and coaches.
"Attempting to get parents, young players and coaches to understand each other's role in the development of the young player always seemed a challenge.
"The trigger came one day when watching a boys' under-10 match in a local park. I heard a team manager tell a young player, who was about to take a throw-in, to 'throw the ball down the line'. "
I thought to myself 'why can this young player not think and decide for himself and where, on display, are the skills associated with a throw-in that the young player and his team-mates should have been taught in training?'. This question started the process of writing this book, which took three years to complete."
Seven Soccer Skills is available on Amazon UK. Irish League clubs have also agreed to stock the book. For further information contact info@sevensoccerskills.com.
Image: Michael O'Neill helps Trevor McMullan to launch Seven Soccer Skills.