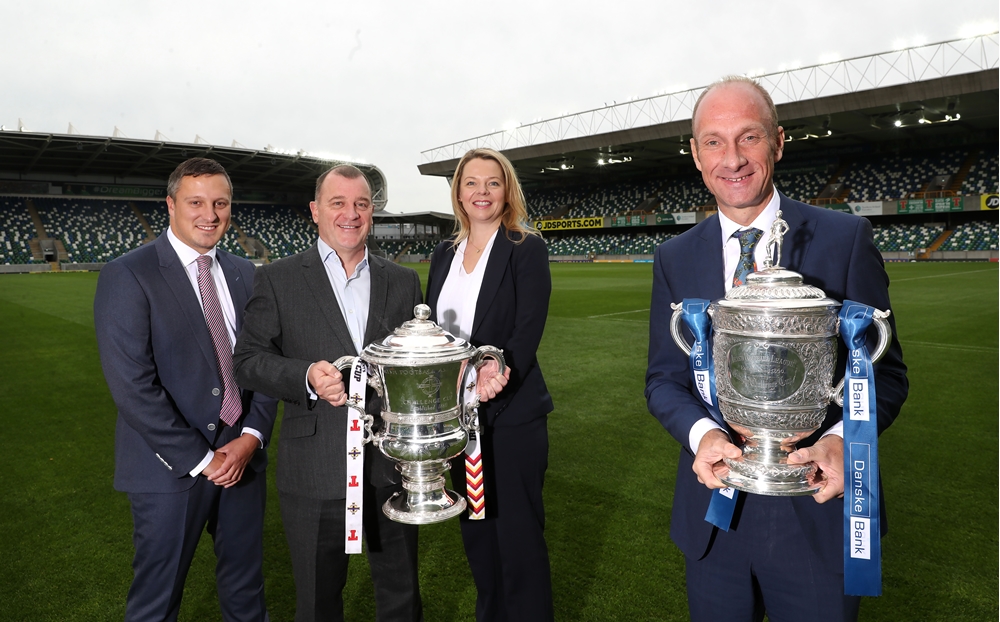 A whole new ball game of Friday night sport kicks-off in October with live Danske Bank Premiership and Tennent's Irish Cup matches coming to BBC Two Northern Ireland.

BBC Sport NI, with the Irish Football Association and Northern Ireland Football League, has agreed a new three-year deal which will see 10 Premiership games as well as two additional Irish Cup games broadcast live on TV over the season.

The new agreement starts with the north Belfast derby with current Premiership Champions Crusaders facing neighbours Cliftonville at Seaview on Friday, 5 October.

Ten Premiership games will be broadcast live over the season in total along with the two Irish Cup fixtures – which are in addition to the Irish Cup Final which BBC Sport NI currently broadcasts live.

The first three live Premiership games will be Crusaders v Cliftonville (5 October), Ballymena v Glenavon (2 November) and Coleraine v Newry City (30 November). Confirmation of the other games will be announced when they are agreed.

Jane Tohill, Editor BBC Sport NI says:

"This new agreement with the IFA and NIFL is brilliant news for local football fans and for our audiences. With 10 live league games across the season and three Irish Cup matches including the final, we are delivering a comprehensive live package of local football. We look forward to featuring as many clubs as possible throughout the season."

Peter Johnston, Director BBC Northern Ireland says:

"It's great to have live sport on BBC Northern Ireland television on Friday nights. This new deal complements the recent deal we secured for highlights of the Northern Ireland team and means that we have enhanced coverage of local football across all our platforms. Beyond this, we also remain committed to finding ways to bring our audiences the best possible action across a range of sports."

Patrick Nelson, Irish FA Chief Executive, said:

"More people play football in Northern Ireland than any other sport and I am delighted that BBC Sport NI is reflecting that popularity by showing live coverage of the Tennent's Irish Cup, the Danske Bank Premiership, as well as providing highlights of Northern Ireland senior men's international matches.

"Having live football on a Friday night will be a huge boost for the game here and I would like to thank BBC Sport NI for committing to cover these matches. I have no doubt that because of this new TV deal more people across Northern Ireland will follow local football and more young people will be inspired to get involved in the game."

Andrew Johnston, Managing Director of NI Football League said:

"This is a huge moment for the NI Football League and the Danske Bank Premiership, with the improvement in quality and growing attendances we're delighted that we can bring our game to a wider television audience this season.

"This announcement is testament to the commitment BBC Sport NI have shown the Irish League and we look forward to working with them to allow even more people to enjoy the unique passion and quality of our league."

Live coverage of the first game, Crusaders against Cliftonville, begins on BBC Two Northern Ireland at 7.30pm on Friday, 5 October presented by Stephen Watson, with commentary from Thomas Kane.

Football fans can keep across all the action with comprehensive coverage across BBC Sport NI including:
Live audio commentary on Sportsound on BBC Radio Ulster and online of Irish League and international football. 
BBC Northern Ireland will broadcast highlights of all Northern Ireland's games – home and away - in the UEFA Nations League in the run-up to the UEFA Euro 2020.
All the action, results and reaction on Final Score
Irish League Show providing highlights and analysis during the season on the iPlayer exclusive weekly programme.
Plus the latest news, features, analysis, reports and highlights across BBC Sport NI social platforms.