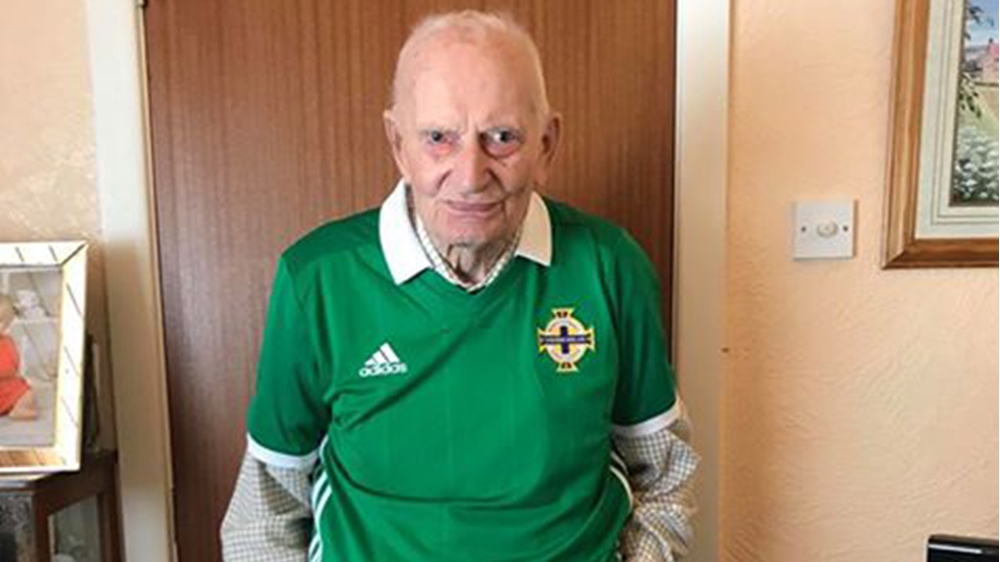 On Sunday 2 September 2018, Northern Ireland fan Joesph 'Joe' Graham celebrated his 100th year as a proud member of the Green and White Army. 
As a regular at Northern Ireland games during the 70's and 80's, Ballymena fan Joe doesn't make it to games now but still won't miss a kick as he listens to the matches on his radio. 
Joe's granddaughter, Joanne Graham told us how he followed her own Northern Ireland journey with keen interest. 
She said: "In my younger days I was part of the women's set up for Northern Ireland, playing in the first ever Northern Ireland girl's football match against Scotland and the first UEFA U19 Championships in Bulgaria. He enjoyed following me on my adventures and kept all the newspaper cut outs.
"He really enjoyed when the team reached France 2016. The excitement in his face when we talked about it and he would've been 97 then and still had all the excitement of a teenager!"
Joe told his granddaughter: "I remember when the team made it to their first World Cup, I would have been about 40 at the time. It brought such excitement to the country and a real sense of jubilation."
Joe is known for his love of telling stories and his granddaughter is usually one of the first in line to have him bend her ear. 
She said: "He enjoys talking but my granny (Joe's wife) tells me off sometimes for always getting info out of him. She will be 100 next year too!"
"I think he will be delighted to be your Fan of the Month. At the age of 100 he has lived through a lot of the good and bad times with the team. I think it's fantastic for him to get this recognition as a lifetime supporter of the team, still keeping up to date by listening in on the radio or watching on the TV."
Joe was thrilled to show off his support in his Fan of the Month photo (pictured above) in front of his family that gathered to celebrate his birthday. 
Joanne said: "He still shows interest and seeing him in the Northern Ireland top was a proud moment for him.
"He was delighted to put the shirt on for the photo and even stood up to pose as he normally would just sit for a photo but he got up to show off the Northern Ireland top."
You are welcome at the National Football Stadium at Windsor Park anytime, Joe! 
Think you know someone that deserves to be our Fan of the Month? Contact us on social media to submit a nomination! 
Twitter: @northernireland
Instagram: @northernireland
Facebook: facebook.com/northernireland