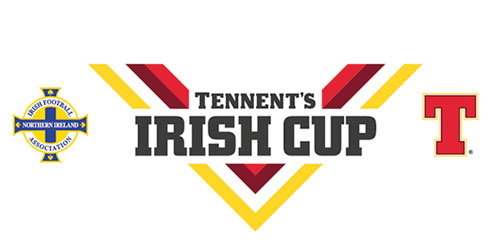 The Tennent's Irish Cup semi-finals take place this Saturday (31 March) for a chance to play in the 2018 final. 
If, at the start of the season, you would have suggested that two Championship clubs would still be in the hunt for Tennent's Irish Cup glory at the semi-final stage you would have been summarily dismissed as being some sort of Roy of the Rovers fantasist and laughed out of town.
Yet here we are on the eve of the last four facing exactly that scenario as both Larne and Loughgall stand just 90 minutes away from a place in domestic football's showpiece occasion on 5 May.
And it's not as if the Inver Reds or the Villagers haven't earned the right to be here. Far from it, in fact, as both have overcome top flight opposition with recent rich cup pedigrees along the way – and in their own backyard to boot!
Larne, for example, took on and defeated a Ballymena United side that had already reached two cup finals this season, while Loughgall knocked out 2016 winners Glenavon at Mourneview Park.
Indeed the Lurgan Blues were Loughgall's second Premiership scalp having already accounted for Ards in an earlier round.
Their prize for their exploits so far is a meeting with Cliftonville at The Oval, a repeat of the 1997 semi-final, a game the Reds won 3-1 before going on to lose to Glenavon.
It has been a somewhat disappointing season for Cliftonville given their recent achievements and the Irish Cup, in particular, has proved to be a tough nut to crack since their last triumph way back in 1979 but there is a quiet air of optimism around Solitude that maybe, just maybe, this is their year.
Of course, if they were to do it they'd have to overcome not only Loughgall but either Larne or Coleraine from the other semi-final.
Tiernan Lynch's Larne might not have made the top six split in the Championship but the Gibson Cup chasing Bannsiders will write them off at their peril.
Up until last weekend's loss to Limavady United, Larne had been undefeated in all competitions in a run stretching back to mid-November. It was only a poor run of form up until then that was to ultimately condemn them to another season in the second tier.
Coleraine, on the other hand, have had a fantastic campaign and find themselves locked in a title tussle with Crusaders which looks set to go down to the wire.
Can Oran Kearney's men continue to chase what would be a league and cup double? Or will Larne pull off a repeat of their 1987 semi-final victory over the Bannsiders to book a first place in the final for a generation?