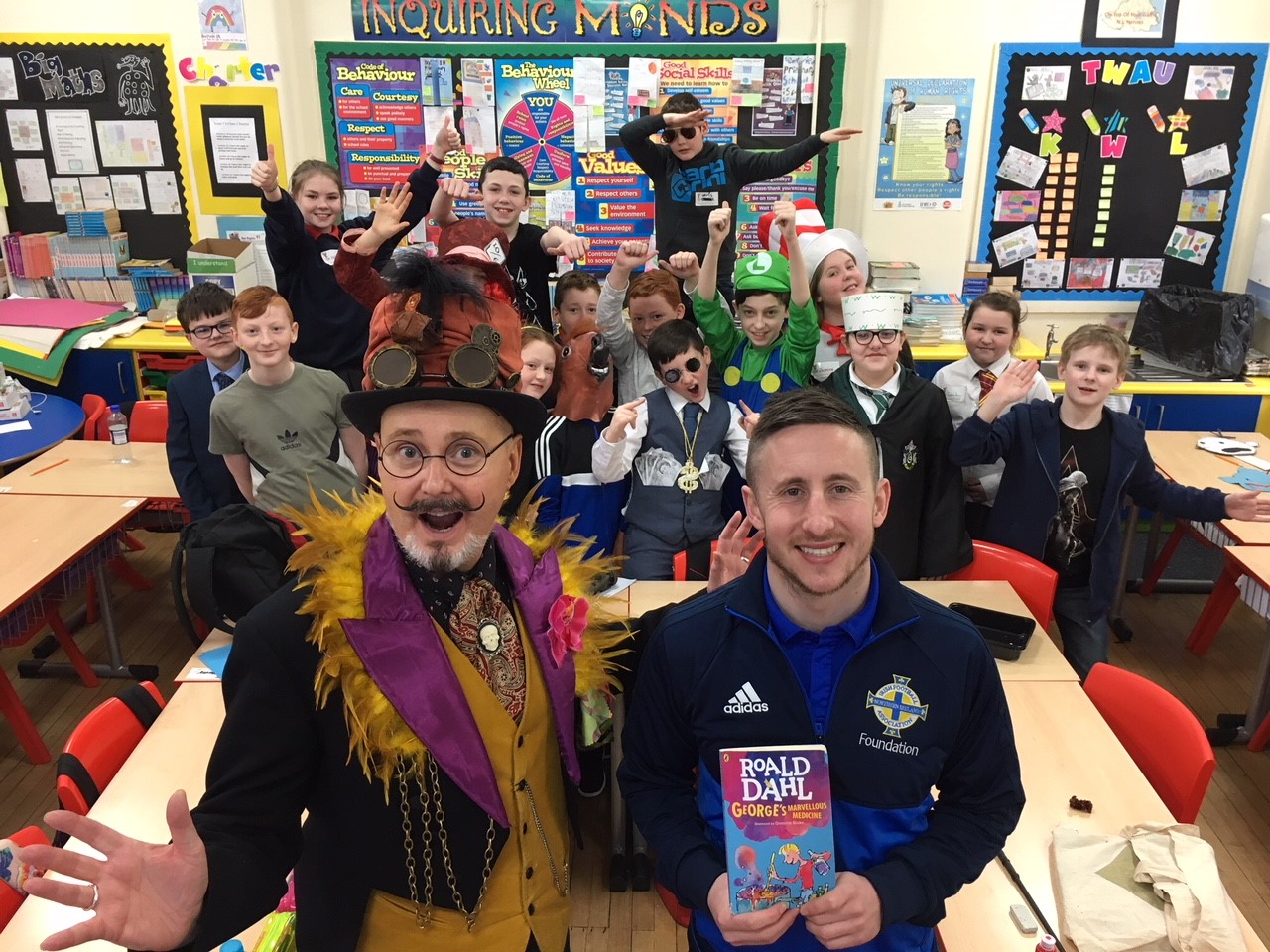 The Irish Football Association embraced World Book Day by urging kids at a north Belfast school to expand their knowledge through reading more.
Michael Carvill, the Irish FA Foundation's Volunteer Development and Policy Officer, popped along to Seaview Primary School earlier today to encourage P6 and P7 pupils to get into the reading habit.
Carvill, who in his other job plays in midfield for Danske Bank Premiership leaders Crusaders, got a warm welcome, especially from kids who support the Crues, whose Seaview ground is a short distance from the school.
The midfielder read extracts from the Roald Dahl classic 'George's Marvellous Medicine' to two P6/Year 6 classes and a P7/Year 7 class. And he was a big hit with the children.
Anna Reynolds, a P6 pupil, said: "It was really good. I have a full book shelf at home and I really enjoy reading."
Fellow P6 pupil Nathan Miskimmin, who admitted he only reads sometimes, said: "He was good. His talk has definitely encouraged me to read more."
Carvill revealed to all three classes that he played alongside Northern Ireland defender Jonny Evans in several youth sides as he was growing up and pointed out Jonny was a straight-A student because he read a lot while travelling to and from Manchester United in his early teenage years.
The Evans story resonated with P7 pupil Josh McCracken who said the talk/reading by the Irish FA Foundation's Volunteer Development and Policy Officer had been "really inspirational".
Carvill encouraged the kids to read more and limit the amount of time spent playing computer games.
Year 7 student Megan McCrea said afterwards: "I think I will spend less time on the computer from now on."
P7 teacher Dane McCoy, who extended an invitation to the IFA to help the school celebrate World Book Day, said Michael's visit had helped to reinforce the importance of reading among the P6 and P7 pupils at Seaview PS 
Image: Michael Carvill with suitably attired teacher Mark Irvine - teachers and pupils donned fancy dress to mark World Book Day - and his P7 class at Seaview Primary School.