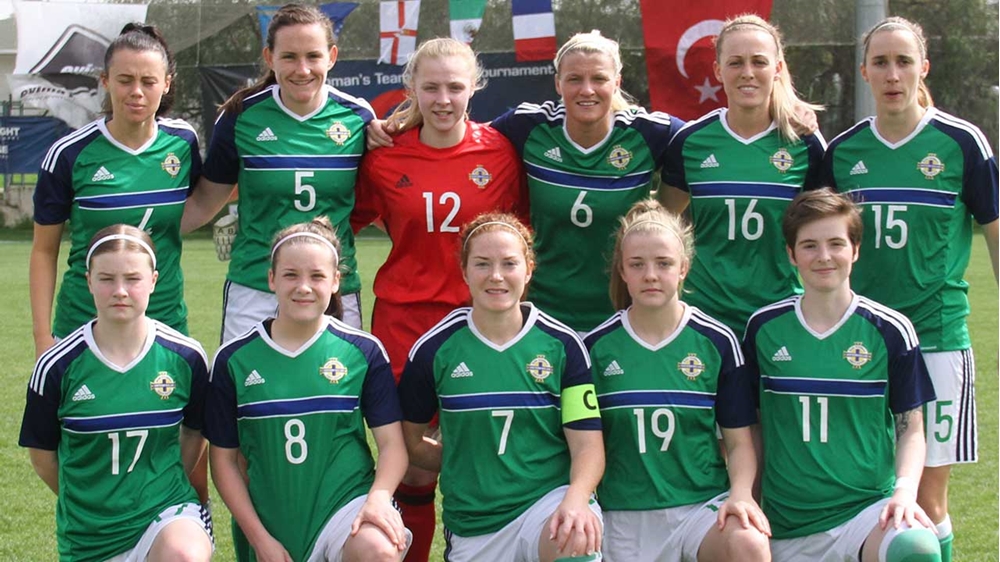 Northern Ireland Senior Women lost 1-0 to Kosovo in their final game of the Turkish Women's Cup.
The defeat means Alfie Wylie's side finish 6th out of the 10 teams with France B crowned champions after their 2-1 win against Mexico in the final. 
Wylie made a few changes from the previous games with a first senior start to 16 year old striker Emily Wilson and Under 19s Captain Emma McMaster. Also young keeper Lauren Perry came in for her first appearance at the tournament in place of Jackie Burns.
In the first half it took some great Kosovo defending to keep Northern Ireland at bay and as the game went on, Kosovo started to hit on the counter.
Kosovo were awarded a penalty with ten minutes left but that was saved by Perry. However, she couldn't stop Kosovo taking a surprise lead with five minutes left to give them the win.  
The Turkish Women's Cup consisted of four games over seven days and for the Senior Women it began with a 2-0 win against Kazakhstan. Kirsty McGuinness was in fine form during the tournament and opened her account before Lauren Wade ensured the win.
The opening game win was followed by a hard fought draw against Romania who are 16 places higher in the world rankings. Megan Bell gave Northern Ireland the lead but they had to settle for a point after a second half equaliser.
The group finished with a 3-1 defeat where McGuinness was on the scoresheet again to reduce the deficit but Ukraine scored a third minutes later to hand the Senior Women their first loss of the tournament. 
The Senior Women now begin preparations for the next World Cup qualifiers against the Netherlands in Eindhoven on Friday 6 April before welcoming Norway to Shamrock Park in Portadown on Tuesday 10 April.
Team that faced Kosovo: Lauren Perry, Jade Lindsay, Ashley Hutton, Freya Holdaway, Laura Rafferty, Megan Bell, Sarah Robson, Emma McMaster, Kirsty McGuinness, Emily Wilson
Subs used: Ciara Sherwood, Jessica Foy, Lauren Wade, Louise McDaniel. Subs not used: Jackie Burns, Madison Guy, Yasmin White, Rebecca McKenna, Rachel Newborough.