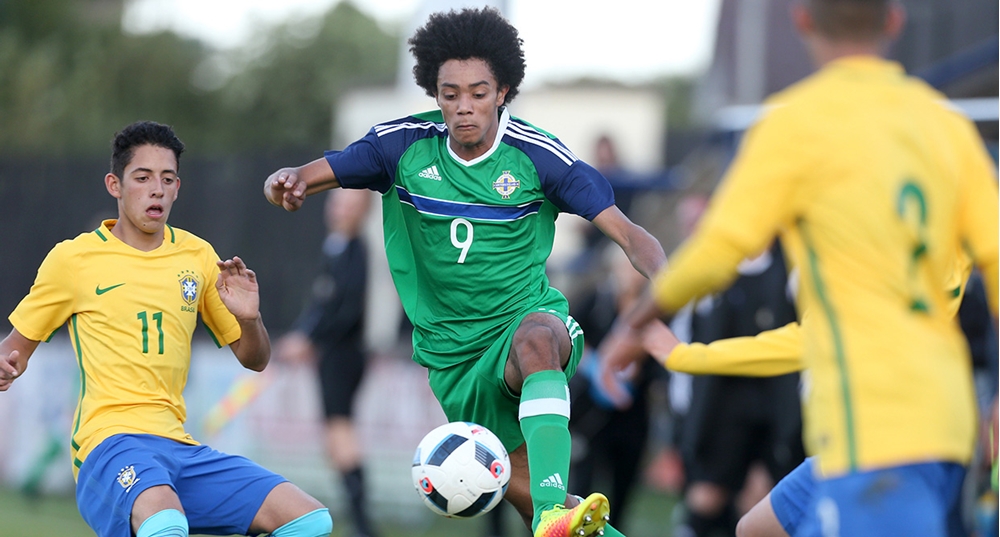 In an ongoing series we are highlighting the young players who are part of JD Club NI, the Irish Football Association's elite development programme.
Name: Aaron Brown.
Age: 16.
School: Royal Belfast Academical Institution (RBAI).
Which JD Club NI team do you play for? Under-16s transitioning to U17s.
Which club do you play for? Linfield.
Position? Striker.
Any previous clubs? Ridgeway Rovers.
Favourite team/s? Sunderland and Barcelona.
Favourite player/s – who inspires you? Ronaldinho.

What's the best goal you have scored? Chipping Burnley FC's goalkeeper during a trial match at Burnley with Ridgeway.

Do you play/like any other sports apart from football? I really enjoy playing basketball, and I am also involved in athletics.
What's the best team you have played against? Belgium. 
What's the best pitch you have played on? Bury FC's academy pitch.

What's the best stadium you have visited? Camp Nou, Barcelona.

Most difficult opponent – who is the best player you have come up against? The right winger for Brazil (Club NI played them in Dungannon back in September).

Any other interesting facts about you that we should know? I am looking forward to commencing a scholarship with Bury FC Academy in July and being part of their pre-season tour to Spain. In my downtime I enjoy mixing hip hop vinyl on my decks. My mum's family is Jamaican and I have a passion for the music and Jamaican culture. I also enjoy art and design.