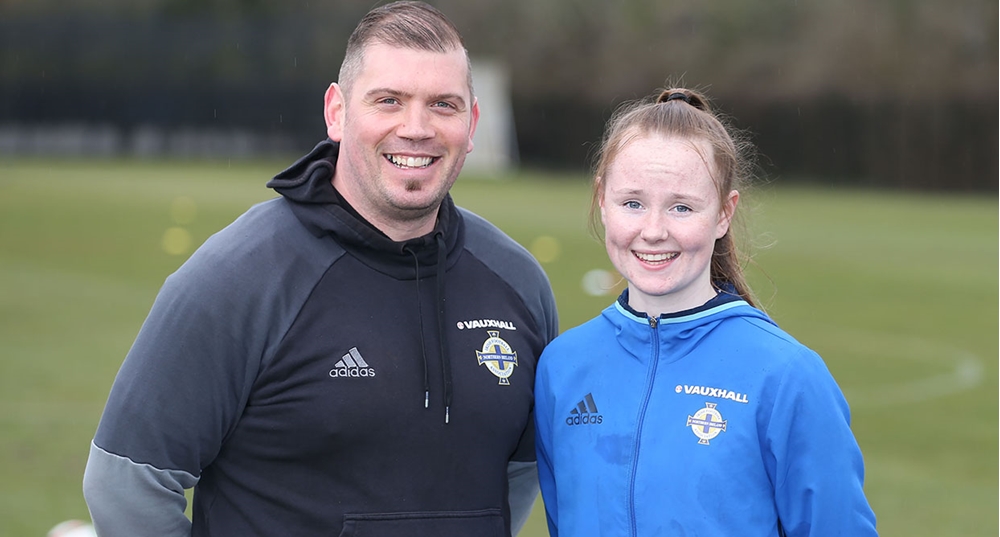 The Irish Football Association is hosting one of the most prestigious girls' football competitions in Europe this weekend.
Ulster University Jordanstown is the venue for the annual Bob Docherty Trophy competition for Under-15 girls' development sides.
England, Scotland, Wales, Republic of Ireland and Northern Ireland A and B sides will be battling it out for the trophy on the UUJ pitches from tomorrow (Saturday 24 March) until Monday.  And there is free admission to all of the games.
The competition, which is run by the Schools Association Football International Board (SAFIB), of whom Bob Docherty is a former secretary, began in 2007.
To date both Republic of Ireland and Scotland have won the trophy three times, England and Northern Ireland have won it twice and Wales once. And the Welsh are the reigning champions.
Alfie Wylie, Northern Ireland's National Women's Manager, said the Irish FA is delighted to be hosting the tournament and he predicted spectators will be treated to some high quality football over the three days.
He pointed out: "It is great that we, as hosts, can have two squads taking part in the tournament, allowing 36 of our best young players the opportunity to measure themselves against the best players from our neighbouring associations."
There will initially be two round-robin groups of three teams, with the winners of each group playing in the final on Monday. The runners-up in each group will also face each other – and that's also the case with the teams finishing third.
Northern Ireland A, managed by Ryan Mullan, have been drawn to play England and Scotland. The B team, managed by Stephen Graham, will face Wales and the Republic.
Tomorrow Northern Ireland A will take on England in their first game of the competition (16.30), while Northern Ireland B play Wales (16.30) and Scotland face the Republic (16.30).
On Sunday Northern Ireland A and Scotland will lock horns (14.00), Northern Ireland B will tackle the Republic (14.00) and England will meet Wales (14.00).
The final, and the two other play-off games, will be staged on Monday at 11am.
Northern Ireland A: Jenna Corry (Forthill College), Kathryn McConnell (Kilkeel High School), Leah McAuley (St Dominic's Grammar School), Erin McGreevy (St Louise's Comprehensive College), Shona Davis (St Louise's Comprehensive College), Fi  Morgan (Blessed Trinity College), Teegan Lynch (Captain, Holy Cross College), Cora Chambers (Lisneal College), Cora Morgan (St Louise's Comprehensive College), Lucy Andrews (Wallace High School), Rosie Zubier (Dominican College), Lauren Walsh (Ballyclare Grammar School), Amie Hill (Liverpool Academy), Cara Mervyn (St Louise's Comprehensive College), Anna Wilson (Rathmore Grammar), Katie Dickson (Down High School), Abbie McHenry (Belfast Royal Academy), Rosie Thompson (Mercy College).
Northern Ireland B: Rachel Norney (St Louise's Comprehensive College), Kaia Moore (Limavady Grammar), Ella Haughey (Down High School), Tierna Bell (St Genevieve's High School), Aimee Neal (Fivemiletown College), Helen Parker (Wellington College), Ellie-Mae Dickson (Wallace High School), Caoimhe Mulholland (Captain, Assumption Grammar), Cara Tumelty (Assumption Grammar), Erin Montgomery (St Colm's High School), Eve Reilly (Bloomfield Collegiate), Leah Heaney (Lurgan Junior High), Abbey Redmond (Carrickfergus Grammar), Darcy Boyle (Belfast Girls' Model), Ellie Tennyson (Laurelhill Community College), Zoe Rodgers (Wellington College), Tara Doherty (Holy Cross College), Lucy Girgan (Dalriada Grammar).
You can see a gallery of some of the players and coaches involved below.