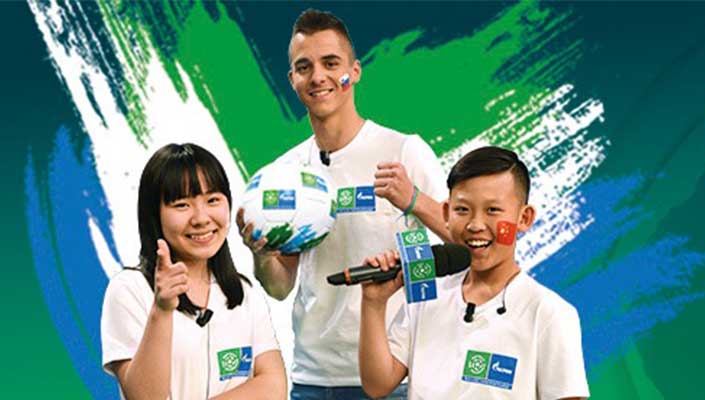 The Irish Football Association has begun a search to find a young football writer who will report on a major youth football tournament and conference in Russia this summer.
Now in its sixth year, the Football For Friendship (F4F) programme is aimed at fostering social values such as respect for other cultures and nations, equality and peace as well as encouraging young people to adopt healthy lifestyles.
Following an International Day of Football and Friendship at the end of April, F4F will culminate with an International Friendship Camp, an F4F World Championship and an International Children's Forum in Moscow from June 8 to 15 where more than 200 countries will be represented.
Gazprom, which sponsors F4F and is a partner of FIFA and the 2018 World Cup, is inviting one young journalist from Northern Ireland - plus a parent/guardian - to attend and report on the F4F events in Russia this summer. 
The IFA has been tasked with finding the young journalist, who has to be aged 12 and born between April 2005 and September 2006 inclusive. And weekly newspapers across Northern Ireland are helping with the search. 
Initially the association is inviting young football writers to submit a 350-word report on any local football match. It can be at any level of the game in Northern Ireland, from a youth league encounter to a senior match. 
These reports will be judged by an IFA panel who will in turn choose a shortlist of six to attend an Irish Cup semi-final at the end of March. Each finalist will then be invited to report on the semi-final and the young person who produces the best report will get to go to Russia this summer with a parent/guardian as part of an Irish FA delegation. Gazprom will cover the cost of the trip (including flights, meals and accommodation). Terms and conditions apply.
To enter the contest aspiring young football writers should send a match report (350 words maximum) to f4f@irishfa.com no later than Tuesday 20 March (5pm).
Entrants should include their name, address, date of birth, email address and a contact telephone number. The six finalists will be notified by 23 March. The Irish Cup semi-finals are due to be staged on 30/31 March.