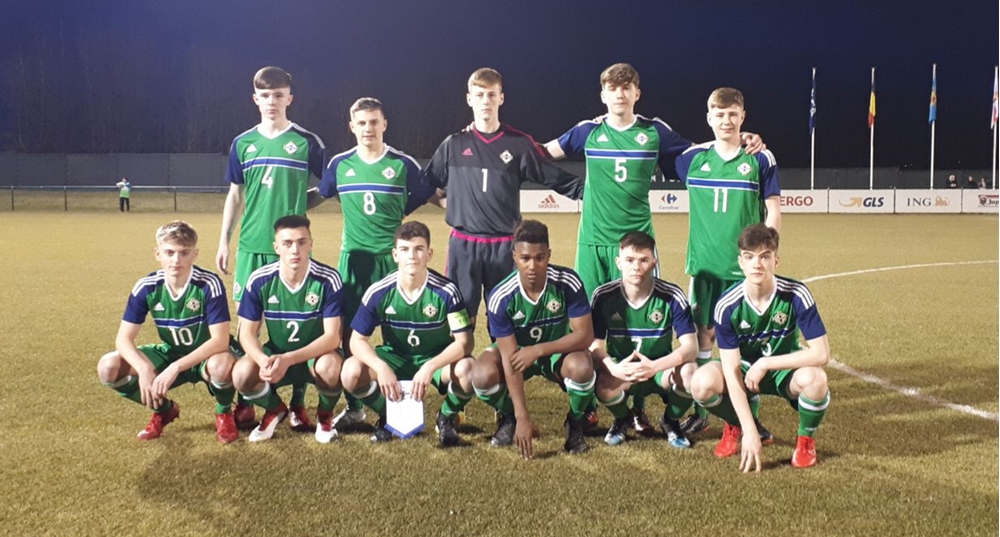 The JD Club NI squad which will evolve into Northern Ireland's Under-17 side put in a spirited display against Belgium's U16s last night.
Although they lost 3-0 at the Belgian FA National Training Centre in Brussels, the boys in green enjoyed good periods of possession and created several chances in the international friendly match.
The players in the JD Club NI U16 side, which was largely the team that represented Northern Ireland Schoolboys in the Victory Shield back in the autumn and enjoyed several victories in internationals last year, are effectively having a farewell tour in Belgium this week.
It will be their final appearances for JD Club NI before they transition to the Northern Ireland U17 set-up. And they are being managed by both JD Club NI senior coach Darren Murphy and Northern Ireland U17 boss Stephen Frail.
Antonio Zacarias opened the scoring for Belgium in the 6th minute of last night's game. However, despite that early setback, and with energetic captain Dylan Boyle leading by example, the Club NI boys gave as good as they got for long spells against a strong Belgian outfit.
Doku Jeremy doubled the hosts' lead on 34 minutes but the Club NI boys did not let their heads drop and started the second half brightly.
Both sides created chances before Belgium sealed the win in the 80th minute through a Hautekiet Ibe strike.
"We produced some good play at times and that was very encouraging. The game was a valuable part of the boys' learning and overall development, especially with them now moving into the U17 age group," said Darren Murphy afterwards.
JD Club NI will take on the Belgians again tomorrow (8 March) at the Belgian FA centre in Brussels (11am start).
Northern Ireland squad: David Walsh, Jack Scott, Euan Deveney, John McGivern, Micheal Glynn, Dylan Boyle (captain), Peter McKiernan, Carl Johnston, Alberto Balde Almanzar, Ben Wylie, Barry Baggley Crowe. Subs: Callum Taylor, Gerard Storey, Aidan Steele, Ben Gallagher, Trai Hume, Christopher Hutchinson, Aaron Brown.