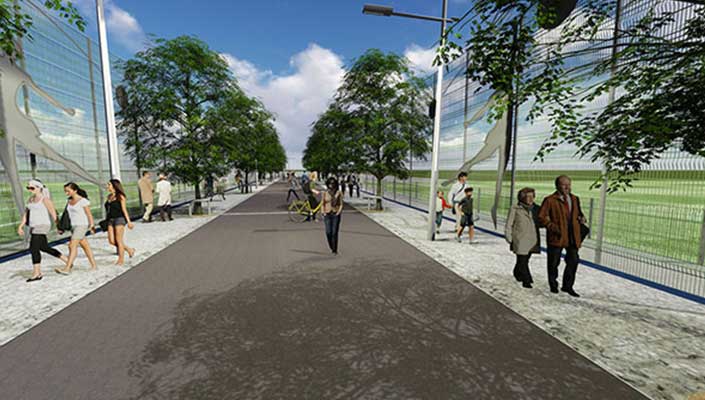 Belfast City Council is inviting members of the public to suggest a name for a new boulevard leading to Olympia Leisure Centre and the National Football Stadium at Windsor Park.
The road will provide access from Boucher Road to the state-of-the-art leisure centre and spa, the stadium and Linfield FC's Midgley Park.
It will also provide access for cars and pedestrians to a new 3G pitch, play park area and multi-use games area that will officially open at Olympia in May. 
The road is being constructed as part of a £21.75 million investment at Olympia – a project that sits within Belfast City Council's £105m Leisure Transformation Programme for the city. 
Members of the public can share their suggestions between now and Sunday 18 March either by completing an online form on the council's website (www.belfastcity.gov.uk/nametheroad), by email or by picking up a form.
They can email suggestions, and the reasons why it would be a fitting name, to nametheroad@belfastcity.gov.uk or pick up a form at venues in the area around the centre and the stadium: Olympia Leisure Centre, Morton Community Centre, Greater Village Regeneration Trust, Windsor Women's Centre and South City Resource Centre.
Postal entries (using official forms available at the local venues or by phoning 028 9050 0522) can also be submitted to: Name The Road, c/o Property and Projects Department, Belfast City Council, 9-21 Adelaide Street, Belfast, BT2 8DJ. Postal entries must be received by Monday 19 March.
All suggestions must adhere to rules set out in terms and conditions available on the council's website. And only one suggestion per person or organisation will be accepted.
Valid suggestions will be collated by a naming panel and a shortlist will then be put to a public vote. The public vote will be for a period of three weeks.
Voting will be available online, at the local venues listed, by email and post. Once the public vote has closed the result will be presented to council for ratification. Once this has taken place the result will be made public.
Image: An artist's impression of the new entrance supplied by Belfast City Council.