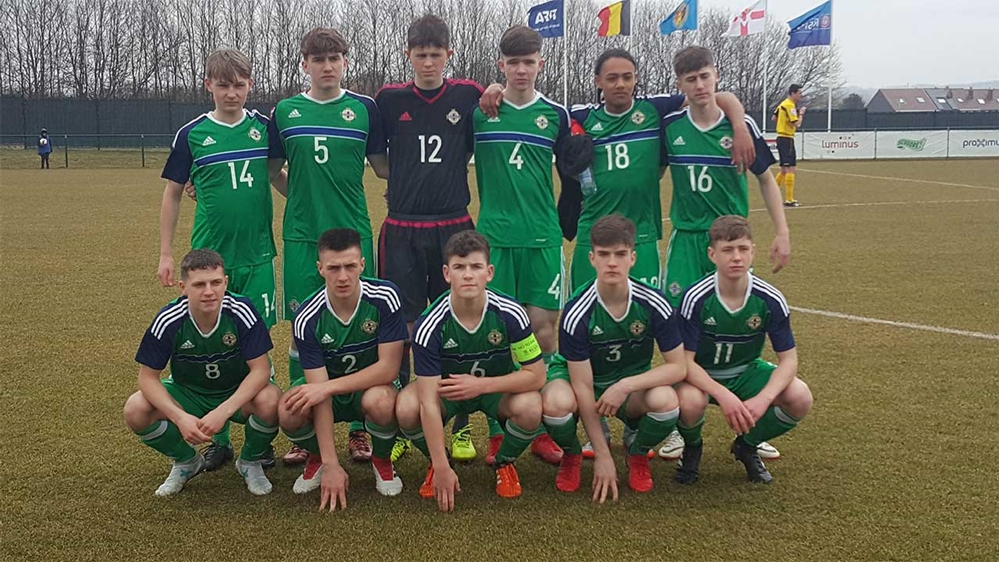 The outgoing JD Club NI Under-16 side were outgunned in their second and final match against Belgium's U16s.
The Belgians, who defeated the boys in green 3-0 two days ago, proved too strong for Darren Murphy's side again earlier today and ran out 4-0 winners. 
Belgium have a huge pool of players to choose from – and this was reflected in the fact they were able to field a brand new starting 11 in the international friendly match staged at the Belgian FA National Training Centre in Brussels.
As in the first game, however, JD Club NI suffered an early setback when Leliendal Yannick scored for the Belgians with just over a minute on the clock. The boys in green then knuckled down to play some decent football.
Goalkeeper Callum Taylor produced an excellent stop on 29 minutes but two goals in quick succession saw Belgium slip into a comfortable lead. In the 33rd minute Kana Marco grabbed the hosts' second before Cavelier Maxime bagged another four minutes later.
JD Club NI carved out a good opportunity on 39 minutes but Jack Scott's effort was expertly blocked.
Micheal Glynn had an excellent game in the midfield berth for JD Club NI and he continued to drive his team-mates forward.
After the break the Northern Ireland boys enjoyed some decent possession and tried hard to put the hosts under pressure.
However, in the 65th minute, Taylor was called upon to make another fine save before the Belgians sealed victory on 75 minutes through an Ait El Hadj Anouar effort.
"It was another great performance from the boys, but it was simply not their day. Belgium are an extremely strong team and we competed well against them for long spells," said Darren Murphy afterwards. 
Today's game was the players' final appearance for JD Club NI before they transition to the Northern Ireland U17 set-up. They were managed on the short two-match tour to Belgium by both JD Club NI senior coach Murphy and Northern Ireland U17 boss Stephen Frail.
Northern Ireland squad: Callum Taylor, Jack Scott, Euan Deveney, John McGivern, Micheal Glynn, Dylan Boyle (captain), Peter McKiernan, Carl Johnston, Alberto Balde Almanzar, Ben Wylie, Barry Baggley Crowe, David Walsh, Gerard Storey, Aidan Steele, Ben Gallagher, Trai Hume, Christopher Hutchinson, Aaron Brown.