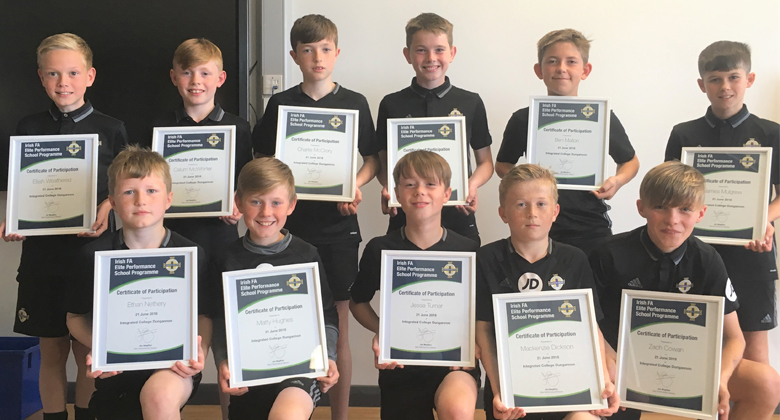 Twelve students from Integrated College Dungannon have been awarded certificates from the Irish Football Association in recognition of the "excellent progress" they have made in their first year in the Irish FA's Elite Performance School programme.
The Irish FA partnered with the Tyrone college last September to create Northern Ireland's inaugural football performance school.

And the first intake saw 12 pupils combine their academic studies with an in-timetable programme of football coaching and development. 

The Year 8 students participate in training sessions four days per week after school to help them benefit from increased contact time with coaches while linking their long-term football development into their overall educational pathway. 
Students receiving awards were Zach Cowan, Mackenzie Dickson, Matty Hughes, Ben Mallon, Charlie McCrory, James Mulgrew, Ethan Nethery, Tommy Taggert, Jesse Turner, Elijah Weathered, Calum McWhirter and Jude O'Hara. 
Jim Magilton, the Irish FA's Elite Performance Director, said:"The partnership with Integrated College Dungannon has been a fantastic way for us to provide more opportunities to our talented young players who are seeking a career in football. 
"We can provide these players with more contact time and it's now possible to link their football development into their overall education, which will benefit them in the long term. All of the students have made excellent progress over the past 10 months." 
Entry into the Irish FA's Elite Performance School programme is by invitation only. The next intake of players will be joining the programme in September. P7 boys and girls from local primary schools will have the opportunity to trial for places for September 2019 once the new school year starts. 
Andrew Sleeth, Integrated College Dungannon's Principal, added: "This is an exciting partnership between the college and the IFA. In this first year the benefits to our young people have been proven. This elite programme adds yet another dimension to our college.  I look forward to welcoming the second cohort of students this September."
Establishing six performance schools across Northern Ireland is a long-term commitment from the Irish FA and one of the objectives in Fostering And Developing Football For All - The Irish FA's Five-Year Strategy 2017–2022. Each performance school will become a hub for post-primary school players.
Image:Students from the Elite Performance School based at Integrated College Dungannon who were presented with certificates from the Irish FA.