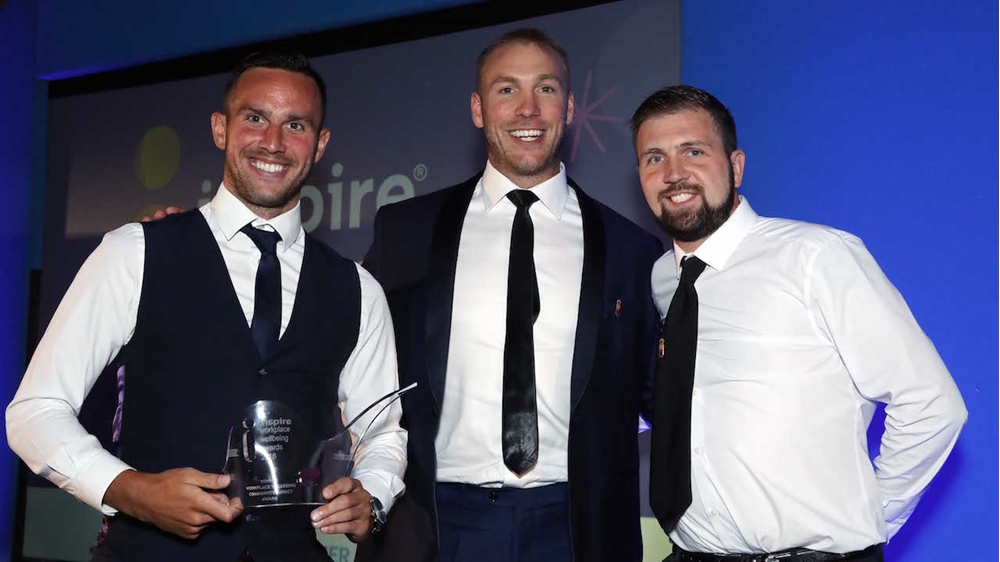 The Irish FA, in partnership with TAMHI, picked up the award for Excellence In Community Wellbeing at the Inspire Workplace Wellbeing Awards for the Ahead Of The Game programme.
The recently launched programme saw the release of a mental health and wellbeing guide which will be distributed to football clubs across Northern Ireland. As part of the Irish FA's commitment to tackling mental health, the guide supports clubs and volunteers when dealing with mental health issues with a focus on challenging the stigma and preventative measures.
Irish FA Club and Community Development Officer Andy Waterworth was on hand with Joe Donnelly of TAMHI to collect the award.
He said: "The Irish FA grassroots team are pleased to receive the award on behalf of our partnership with TAMHI and our clubs. We are very proud that some of our clubs have already engaged in positive mental health awareness initiatives through their own communities of practice. 
"The Irish FA are delighted to be able to now further implement the Ahead Of The Game programme that will upskill volunteers with much needed training, and provide a tool-kit that will promote awareness to manage and promote mental health issues in our communities throughout Northern Ireland. 
"This award was received by us, but most definitely on behalf of our very proactive football clubs in Northern Ireland." 
Inspire Workplaces hosted a glittering awards ceremony to celebrate the importance of building positivity, resilience and mental wellbeing at work.
The event was organised by the mental health charity to recognise the efforts made by many organisations that go the extra mile to protect and nurture the mental health and wellbeing of employees.