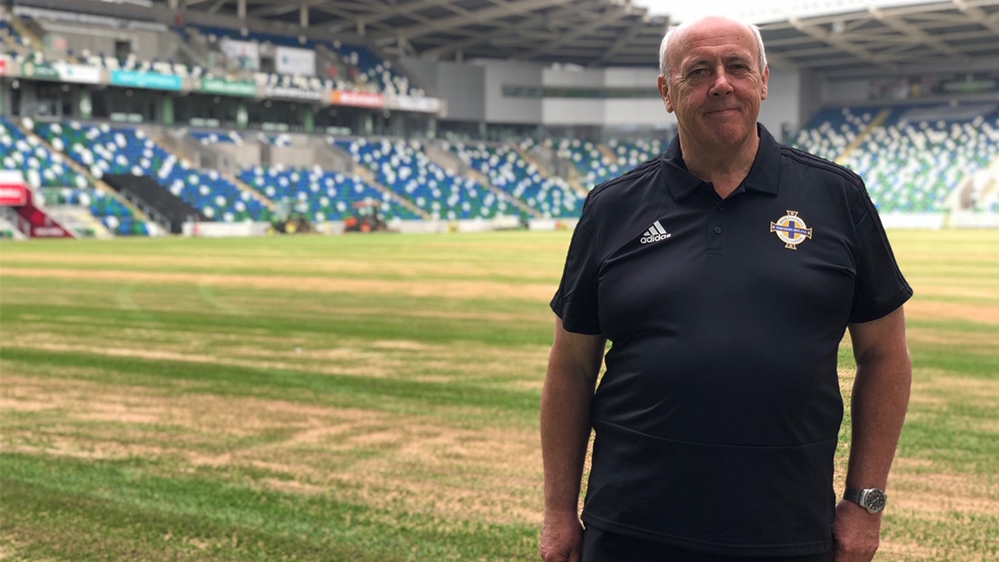 In an ongoing Q&A series we are highlighting the people who make the Irish Football Association tick.
Name: David Boyd.
Job title: Interim Head of Stadium Operations.
How are you settling in at the Irish Football Association?
Very well and relatively quickly thanks largely to the welcome and assistance I have received from colleagues.
Describe a typical working day for you.
A week rarely contains two days which could be described as typical but they are certainly varied. Today, for instance, I have been engaged in negotiations regarding the stadium hosting a boxing event, chaired a meeting dealing with the reconstruction of the stadium pitch, met with the Facility Maintenance Manager, a sub-contractor and the Finance Director as well as reviewing the stadium's health and safety and emergency evacuation procedures. 
What's the best thing about your job? 
Having the opportunity to lead a young enthusiastic team engaged in the stadia industry, which is still in its infancy in Northern Ireland.
Where did you work – and in what roles – before you joined the IFA?
My sporting life has largely been associated with an oval ball rather than a round one and, following several years as a civil servant, the latter part of my career has been spent in rugby union circles, too. 
After playing as a prop for Belfast YMCA and CIYMS I took up coaching at youth level at Ballyclare Rugby Club. After 10 very enjoyable years in that role I took on the position of team manager for the Ulster youth team.
Working with the province's elite rugby players and observing their development was very rewarding, particularly when one of my charges, Stephen Ferris, went on to the highest level in representing Ulster, Ireland and the British & Irish Lions. 
I was employed by the Irish Rugby Football Union for 11 years as the Domestic Rugby Manager with responsibility for all club, schools and development rugby in Ulster.
Then someone persuaded me that my knowledge of the venue would make me a suitable applicant for the position of stadium manager at Ravenhill Rugby Grounds as it was being transformed into the Kingspan Stadium. And I got the job. 
What are your plans for the National Football Stadium at Windsor Park going forward?
As my appointment is in an interim capacity my plans are relatively short term. They are, however, to contribute to the further establishment of a stadium that not only provides a safe and enjoyable environment to host international matches but which also becomes a 'must visit' attraction, hosting conferences, tours of the stadium and Education and Heritage Centre and stages other events such as boxing, concerts and so on.
What are the biggest challenges you face in your role?
As I have said previously the stadia management business is relatively new to Northern Ireland. In addition to establishing the necessary standards and procedures we are required to educate and, in some cases, convince the multiple users of the importance of compliance of these. This is not always met enthusiastically and hence people in my position are commonly known throughout the stadia industry as the heads of the Department of 'No'.
What are you most proud of?
From a career point of view I take a great deal of personal pride from having been involved in the transformation of what was an ageing and not fit for purpose Ravenhill Rugby Grounds into the now impressive modern Kingspan Stadium.
My appointment to the stadium manager's post in 2012, shortly after construction of the new stadium had commenced, was followed by a very acute learning curve. I immediately found the role to be very challenging but rewarding. 
The challenges included keeping the stadium operational for all matches while managing crowds which grew with the new stadium from an average of 11,000 to the eventual capacity of 18,000.
Who (if anyone) has provided inspiration for you during your career?
I can't say that I have been inspired by an individual but I have certainly received much guidance and excellent advice along the way. The best practice model I have gained most from is the Aviva Stadium in Dublin and I am grateful to the management team there who have always been very willing to share their experiences with me.
I was also grateful for advice received from colleagues at Thomond Park (Munster's home ground in Limerick) and also from the excellent team of architects, project managers and construction staff I had the pleasure of working with at the Kingspan.
Any other interesting facts about you that we should know?
I played as a goalkeeper before switching to rugby. Having been introduced to football through the Boys' Brigade League I recall playing for them representatively at the old home of Distillery FC, Grosvenor Park, and then having a few matches for Brantwood.
My main claim to fame, however, came while playing a summer league match for Cregagh Boys' Club's under-14s. During the warm-up I was challenged to defend a penalty taken by a young neighbour who was home on holiday after his first year at Manchester United. Yes, it was George Best. Did I save it? Of course not!