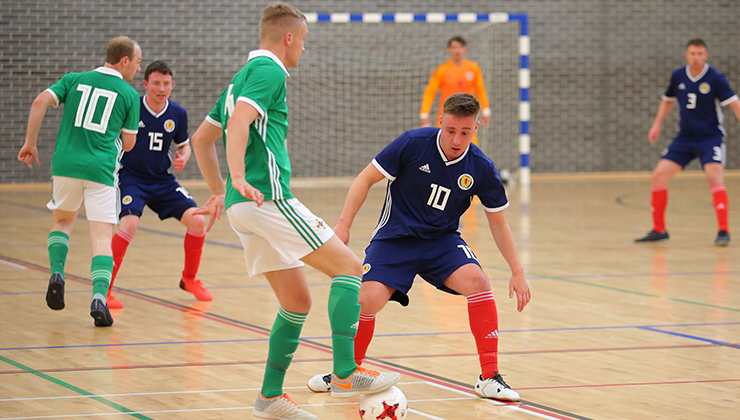 Northern Ireland played out a thrilling 8-6 international futsal match in front of a lively and vocal crowd at Newry Leisure Centre this evening.
It was a real 'game of two halves' with Scotland dominating the first and the hosts fighting back in the second.
Scotland took an early lead in the second minute when Fraser Smith squared the ball to Scot Mollison who hit home from close range.
One minute later it was 2-0 as Mollison hit the ball over goalkeeper Philip Irvine and watched it drop into the net as the Northern Ireland defence scrambled to make a clearance. 
Northern Ireland pulled one back on six minutes as Connor Millar broke down the left and set up Jack Magee who made no mistake with the finish.  
However, to the frustration of the home crowd Scotland restored their two goal advantage just seconds later through Ahmed Aloulou. 
Mollison then scored a penalty and Kyle Ballingall got on the scoresheet to extend Scotland's lead to 5-1.
Northern Ireland captain Adam Barr placed a long-range freekick into the corner of the Scottish net to make it 5-2 on 13 minutes. But just seconds later Kyle Ballingall slotted home a penalty for Scotland.
The home players were frustrated by the way the match was going and conceded foul after foul, handing Scotland another three penalties, all of which they failed to convert.
However, Joe Andrew scored shortly before half-time to give Scotland a 7-2 lead at the break.
Northern Ireland came out fighting in the second half and took the game to their opponents. 
Conor Glenholmes scored from the penalty spot on 23 minutes after Neil Laurenson handed the ball from a shot by Craig Taylor.
Irvine made a series of great saves to prevent Scotland adding to their total before Aloulou brought down Barr to concede a penalty that Craig Taylor slotted home.
Millar scored another penalty for Northern Ireland to make it 7-5 and then Danny Stapleton scored a thunderous strike from range as Scotland came under pressure from Northern Ireland's attacking game. 
But just as it looked like the home team might score an equaliser Neil Laurenson stepped up to score for Scotland and put the game beyond reach at 8-6.
Northern Ireland Head Coach Jonny Michael said;
"We're obviously disappointed with how we started the game.

"I don't know whether the occasion got the better of us - playing for the first time at home. Simple wee things like giving the ball away, simple mistakes that we talked about not doing.

"But the second half was more like us, that's the type of performance we know we can give. 
"The great thing about this weekend is we get another bash at it tomorrow.

"The guys will be encouraged and motivated by what they did in the second half and look to put things right tomorrow. 
"Recovery becomes really important now as they get ready to go again in 24 hours, but certainly the second half gives us a lot of encouragement for what tomorrow can bring." 
Northern Ireland face Scotland again on Saturday at 7.30pm at Newry Leisure Centre. Admission is free of charge or you can watch a live stream of the game on the Irish FA's Facebook page.