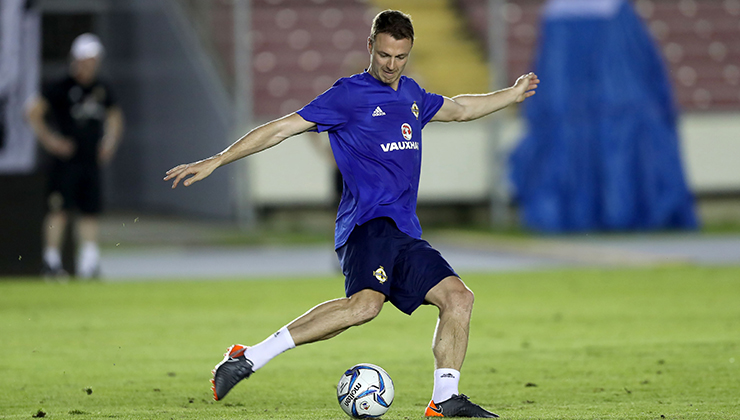 Jonny Evans is looking forward to the final match in Northern Ireland's Central America tour when they face Costa Rica in San José on Sunday.

The FIFA rankings put Costa Rica just two places above Northern Ireland but no-one in Michael O'Neill's squad is underestimating the challenge of playing the 2014 World Cup quarter finalists on their home turf.

Tour Captain Jonny Evans says,

"It's going to be a tougher game than the match against Panama. The conditions are going to be a bit different. It won't be as humid, so hopefully we will be able to apply ourselves a bit better.

"That said, it's a game that we are really looking forward to, it's another challenge for us against a team that has got a lot of experience and been together for a long time.
"We know a lot of their players. A few have played in the Premier League at some stage of their careers. It will be a team that we know more about. There are more games that we can watch videos of, that we will be to analyse and to see how they play."

Evans believes that the tour has been important for developing the bonds within the squad. With a real mix of experience and youth, he feels that Michael O'Neill is helping to build relationships that will endure for the coming campaigns.

"It's been a great tour and I have enjoyed it so far," he says.

"We are away together for 10 days – it's just us and because of that you are forced to get to know everyone a bit better. You find out more about the other players, which will be good for us all going forward."

Having drawn in Panama, Evans now hopes the tour will end on a high in the Estadio Nacional de Costa Rica on Sunday morning.

"We want to put in another good performance and to make sure that we apply ourselves in the right way.

"I think we had about 100 fans at the last game and we might have even more at this match. That's fantastic support thousands of miles from home. It's important that we represent Northern Ireland in the right way and do everyone proud."