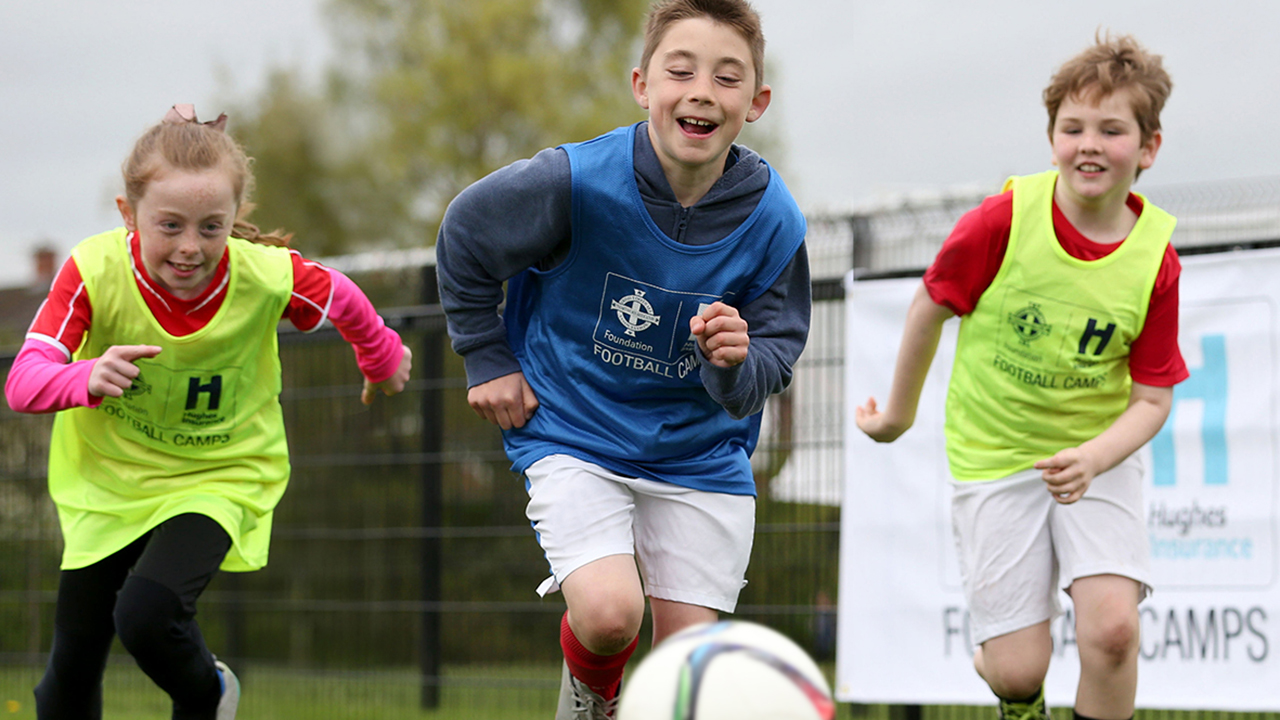 As Northern Ireland schoolchildren get ready for the Hughes Insurance summer football camps, the Irish FA is teaming up with the Public Health Agency (PHA) and Cancer Focus Northern Ireland to remind parents to ensure that their children are safe in the sun.
Just one case of sunburn, particularly in childhood, can significantly increase the risk of skin cancer in later life. And with World Cup fever gripping the nation, young footballers hoping to emulate their heroes on the pitch are being urged to take care in the sun. 


Denise McCallion, Senior Health Improvement Officer at the PHA, said: "Being active outside during the summer is good for your health and we want everyone to enjoy being outdoors during periods of good weather. We do however need to be aware that the sun can cause permanent damage to your skin. One episode of sunburn, especially in childhood, doubles the lifetime risk of malignant melanoma, the most serious form of skin cancer.
"Everyone is at risk of sun damage, but certain groups such as young children are particularly at risk. We therefore ask that parents take simple measures to protect their children when outdoors during the summer."

Ian Stewart, Grassroots Development Manager at the Irish FA, said: "Our Hughes Insurance summer football summer camps are a great way for children to have fun and make new friends while getting top class coaching and learning new skills. Sun protection is important for anyone spending time outdoors and we want to encourage everyone to enjoy outdoor sports safely."
Marbeth Ferguson, Skin Cancer Prevention Co-ordinator with Cancer Focus NI, pointed out that damage caused by the sun could accumulate over time and eventually lead to skin cancer.
Advising parents to ensure their children are protected from sun exposure, she said: "Our summer weather can be changeable but the UV index will tell you how strong the sun really is, so you can take the proper precautions when spending time outdoors. When the UV index is three or greater we need to take steps to protect our skin and eyes from over-exposure to UV rays from the sun.
"From April to September in Northern Ireland, the UV index reaches this level on most days, even on breezy or cloudy days, especially around the middle of the day from 11am to 3pm when the sun's rays are strongest." 
 Top tips for taking care of your skin and eyes in the sun are:
Cover up in the sun with a long sleeved t-shirt and hat
Wear sunglasses with wraparound lenses or wide arms. Ensure they have a CE mark showing that they are made to an agreed European standard and also check for the British Standard BS EN ISO 12312-1 to ensure that they give adequate protection from UV rays. Sunglasses should fit your face well and relatively snugly so that light doesn't enter your eye from around the lens
Use sunscreen with a minimum SPF of 15 for UVB protection and 4-star for UVA protection. Young children may require a much stronger SPF factor to protect their delicate skin. Apply liberally 30 minutes before going out in the sun and re-apply at least every two hours.
Be sure to cover areas which are sometimes missed, such as the lips, ears, around the eyes, neck, scalp and backs of hands.
Seek shade when the sun is at its strongest – generally 11am to 3pm in Northern Ireland
To find out more about the UV index and how it helps you know when to protect your skin visit www.careinthesun.org/skin-cancer/solar-uv-index/ 
You can access UV index readings wherever you are via the British Association of Dermatologist's World UV App http://www.bad.org.uk/for-the-public/sun-awareness-campaign/world-uv-app 
If you are concerned about skin cancer you can call the Cancer Focus NI free information and support Nurseline on 0800 783 3339 or email one of the charity's nurses on nurseline@cancerfocusni.org