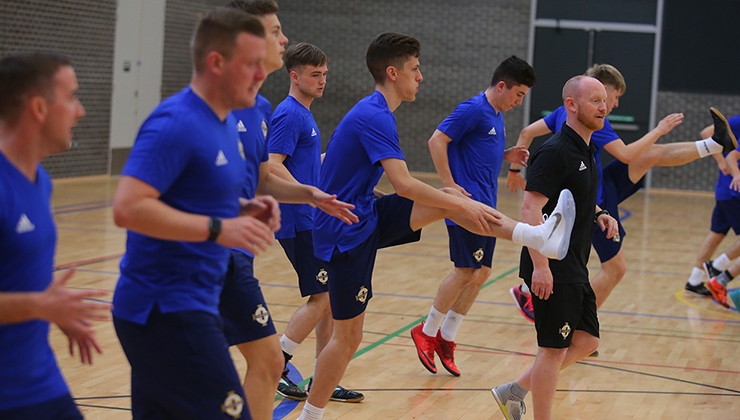 Northern Ireland Futsal Head Coach Jonathan Michael has named his squad to face Scotland in two international friendly matches next weekend. 

The games will take place at Newry Leisure Centre and will be the first ever International futsal games to be played in Northern Ireland. 
The squad will get together on Thursday (21 June) and will play at the £22m facility in Newry on Friday 22 and Saturday 23 June, with both games kicking off at 7.30pm 
Speaking about his squad selection, Jonathan Michael said:

"We had a busy end to our domestic season so it has been pleasing to get the players together over the past number of weeks for some training sessions. 

"Once again we have been able to add to the group and I am looking forward to the strength these additions will bring to us.

"The backroom team and the players are looking forward to playing in front of a home crowd for the first time so we hope the GAWA will be out in full force and help the players raise their performance. 

"Last time we played Scotland we felt we could have got more out of the game and didn't perform to our full potential. 

This time we have the added incentive of playing at home and we are confident that our performance will match the atmosphere." 
Entry to the games at Newry Leisure Centre is free of charge and doors will open to the public at 6.30pm. Everyone is encouraged to come along and cheer on our international futsal team. 
Northern Ireland squad:
Goalkeepers
Philip Irvine (Belfast United Futsal Club)
Daniel Rosbotham (Banbridge Town Futsal Club)
Defenders
Adam Barr (FC Salisbury United)
Scott Gunn (Durham Futsal Club)
John Gibson (Banbridge Town Futsal Club)
Ciaran Donaghy (Belfast United Futsal Club)
 Wingers
James Gould (Banbridge Town Futsal Club)
Jack Magee (Belfast United Futsal Club)
Conor Glenholmes (Belfast United Futsal Club)
Craig Taylor (Banbridge Town Futsal Club)
Jonathan Pierce (Belfast United Futsal Club)
Danny Stapleton (Manchester Futsal Club)
Jordan Wilson (Banbridge Town Futsal Club)
Pivots
Connor Millar (FC Salisbury United)
Ernestas Verenka (Banbridge Town Futsal Club)
Brendan Shannon (Belfast United Futsal Club)