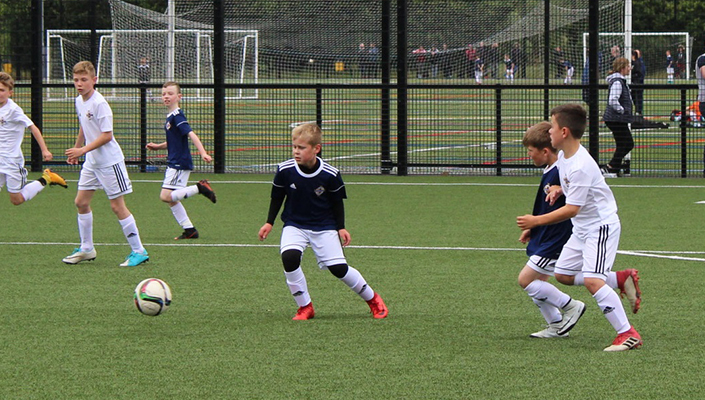 The Irish FA Foundation Player Development Programme concluded last week with a National Festival at Allen Park, Antrim. 
Players from across 12 regions of Northern Ireland participated in small sided matches which provided an opportunity for them to showcase their talent in front of Irish FA talent development coaches. 
Over 280 children have participated in the programme this season and have completed 16 week of football coaching session, 8 weeks of futsal sessions and participated in a variety of regional games. 
The programme seeks to identify talented footballers at Primary 6 and Primary 7 level across all 11 local council areas.  The programme is open to boys and girls and each region aims for 25% of participants to be female. 
The purpose of the programme is to provide a quality structured coaching environment that will provide a platform to best equip participants to graduate into the Irish FA Girls Excellence or Club NI programmes. 
Speaking about the conclusion of the programme, Schools and Futsal manager Jonathan Michael said, "It has been another successful year for our Player Development Programme and the National Festival event is really a celebration for the players.  It is evident that their hard work and perseverance is having a positive impact on their technical ability and game awareness."
Jonathan added, "I would like to thank our Primary School Coaches who provide this excellent support to the players throughout the year.  Their knowledge, enthusiasm and passion for development is what makes this programme successful." 
The Irish FA Foundation plan to extend this provision next season to ensure that greater numbers of players across Northern Ireland have an opportunity to learn from the UEFA qualified staff and develop the potential for future Irish FA talent programmes.