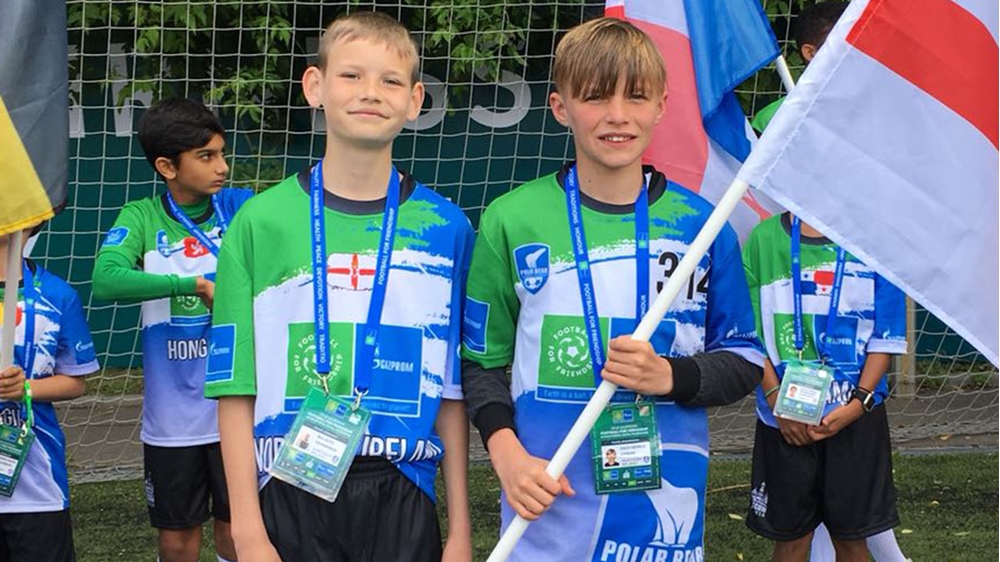 The two students representing Northern Ireland at an international football camp in Moscow prior to the start of this year's World Cup in Russia have extended the hand of friendship across the world.
Zach Cowan and Rex Henderson, both aged 12, have been meeting and playing football with other young students from more than 200 countries.
Integrated College Dungannon pupil Zach is in Moscow primarily to take part in a major youth football tournament, while Belfast Royal Academy pupil Rex won an Irish FA contest for young football writers which is enabling him to cover the tournament and other events.
The pair's trip to Russia has been organised through the Football For Friendship (F4F) international children's social programme run by Gazprom, a partner of FIFA and the 2018 World Cup.
The main activities of F4F 2018 - it is now in its sixth year - arean International Friendship Camp, an F4F World Championship and an International Children's Forum.
Both schoolboys were flag bearers at an opening ceremony to mark the start of the events and today (11 June) they are taking part in the F4F International Friendship Camp at Spartak Moscow's Academy in the Russian capital.
The camp reflects the essence of the overall programme, which is aimed at fostering social values such as respect for other cultures and nations, equality and peace as well as encouraging young people to adopt healthy lifestyles.
There was special emphasis today on F4F's Ecological Initiative, which this year is focusing on how to save endangered animals around the globe.
Zach, who is from Portadownand plays for Portadown FC Youth Under-12s, has also been training ahead of the F4F World Championship tournament, which is being staged at Sapsan Arena tomorrow (12 June).
The five-a-side tournament will feature 32 International Teams of Friendship and the young Northern Ireland student is in a team called Polar Bear.
The talented midfielder, who is a member of JD Club NI, the Irish FA's elite player development programme, has team-mates from Switzerland, Hong Kong, England, Ethiopia and Belgium, and they are being coached by a young Panamanian.
Rex, from Greenisland and a youth player with Crusaders, has been reporting on the activities for various F4F media channels. He will cover tomorrow's tournament and will then file copy on the final activity of the week, the 2018 F4F International Children's Forum, which is being staged in Moskvarium on Wednesday (13 June).
Following the tournament and the forum the pair and other F4F participants will be attending the opening ceremony and opening match of World Cup 2018 on Thursday (14 June) featuring hosts Russia against Saudi Arabia in Moscow's 81,000-seater Luzhniki Stadium.
Image: Rex Henderson (left) and Zach Cowan at the opening ceremony for the variousFootball For Friendship (F4F) activities in Moscow this week.