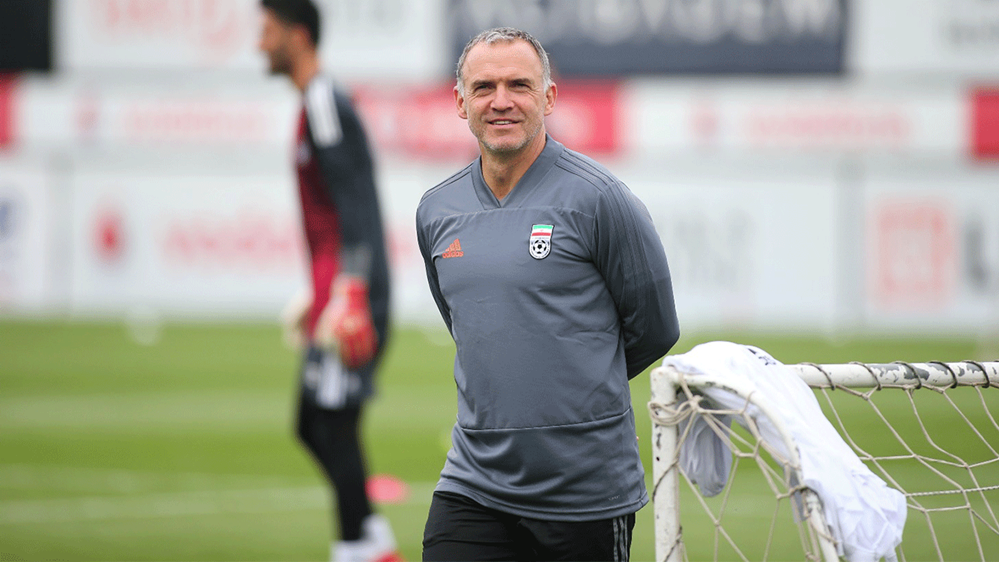 In a new series we are highlighting people from Northern Ireland who are making an impact in the world of football right around the globe. First up is Mick McDermott who has just been to the World Cup with Iran.
Name: Michael 'Mick' McDermott.
Where are you originally from? Glencairn area of Belfast. I attended the Boys' Model.
What's your job? An assistant coach with the Iran national team.
Describe a typical working week for you. Typical weeks since we started the World Cup training camp have been very intense. We have had workdays of 18 or 19 hours. The work has included scouting opponents, training sessions, team meetings, travel, friendly games, World Cup ceremonies. It all equals a very demanding atmosphere.
What's the best thing about your job? The camaraderie within a staff and players. It is special. To see a group achieve great things together is the ultimate fulfilment. And to be able to have a career in sport is something I am very grateful for.
What are the biggest challenges you face in your role? A few things. The time away from family and the constant travel. And the uncertainty of the future is something you must learn to deal with. Always being a few losses away from being fired is something you could consider a challenge. Then there's the challenge to never settle, to never become comfortable, to demand to do better. That is a key to keep moving forward.
What qualifications do you have? UEFA A Licence, USSF A Licence, BSc degree in Physical Education, Masters degree in High Performance Sport (ongoing). I completed my UEFA licences with the Irish FA.

Where did you work – and in what roles – before taking up your current post? I was an assistant coach atConnecticut Wolves and then Oregon State University in the United States. After that I was fitness coach at Al Ain FC (United Arab Emirates) before becoming fitness coach with the Iran national team in 2011-2012. My next role was assistant coach and fitness coach at Al Nasr FC (UAE). From there I became assistant coach and caretaker head coach at Esteghlal FC (Iran) before returning to the Iran national team as assistant coach.
Favourite team/s? My current one: Iran. A team to be proud of. As a kid I was always a Liverpool fan.
Favourite managers/coaches? The manager who has had the biggest impact on me is (Iran boss and former Manchester United number two) Carlos Queiroz. He is absolutely world class. My time working with him has been like doing two PhDs.
He is detail orientated, highly intelligent and has massive experience, with the work ethic and endurance of men half his age. He is also a true gentleman. I owe him a lot and I am extremely honoured to have him as a mentor and friend.
I have also had the privilege of working with Tite (current Brazil coach) for a short time and Walter Zenga; both made important impressions on me. 
Favourite player/s? Any player who helps the team. I don't believe in favourite players within my teams. The collective is what's important. The group is what wins, and the group is what loses. This is vital to understand in my line of work. As a fan I have to admit I was a big admirer of Zinedine Zidane. 
Who (if anyone) has provided inspiration for you during your career? My father and mother. To raise six kids the way they did deserves a medal. My father to this day (aged 78) has a drive and a work ethic that is amazing. This has taught me the importance of perseverance and the ability to endure. In terms of coaching it would have to be my youth coach at Cliftonville, Artie McFarland. 
Are you involved in any other sports apart from football? Football is my life.
What advice would you give to someone starting out? If you want to work in professional football I would say enjoy the amazing highs but be prepared for more frequent lows. And overall be prepared to endure. Success can only come with endurance and perseverance.
What are you most proud of? In life it's my wife and kids. In football it would be maintaining a steady career for the past 20 years and participating in World Cup 2018 with Iran. The performances and the players during this tournament made us (staff) and 80 million people in Iran very proud. We won a lot of respect.
Any other interesting facts about you that we should know? I am moving back to Belfast later this summer after 26 years away. It's time to come home - for a while.