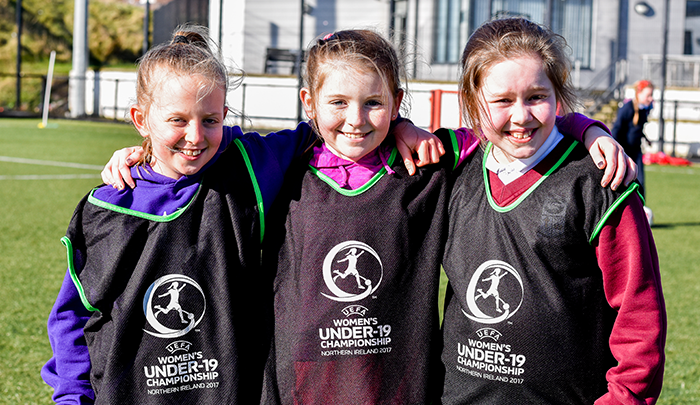 With the UEFA Women's Under 19 Championship just over five months away, pre-tournament activities kicked off this week with the first in a series of girls' football festivals. 
The Cliff in Larne was the venue for the opening festival with over 230 girls from schools throughout the council area in attendance. Pupils took part in coaching sessions, matches and fun activities, as an introduction to girls' football.
Funded through the Department of Communities, the festivals are an integral part of the Participation and Legacy Programme linked to the UEFA Women's Under 19 Championship. From the outset, the Irish Football Association expressed the importance of using the tournament to drive participation levels in girls and women's football by encouraging more females to get involved in the game.
There will be a number of exciting projects delivered over the next couple of months designed to promote community engagement, raise awareness and maximise excitement about the tournament.  
Participation and Legacy Manager, Jonathan Michael, explained further the ambitious targets that the Association have set for the tournament.
"We are honoured to host the UEFA Women's Under 19 Championship in Northern Ireland and as as association we want to use the delivery of this tournament to inspire more young people to get involved in football. In particular, our focus is on encouraging more girls to play the sport, but we also hope that young boys will want to take up football after seeing these inspirational Under 19 players compete on the European stage".
For a full list of upcoming festivals, please see below:
MUSA, Cookstown
Tuesday 28 February, 10am-3pm
Allen Park, Antrim
Wednesday 1 March, 10am-3pm 
Solitude, Belfast
Thursday 2 March, 10am-3pm
The Dub, Belfast
Friday 3 March, 10am-3pm
Aurora, Bangor
Monday 6 March, 10am-3pm
Holy Cross, Strabane
Tuesday 7 March, 10am-3pm 
Lakeland Forum, Enniskillen
Wednesday 8 March, 10am-3pm
Cheny Park, Banbridge
Monday 13 March, 10am-3pm 
Lagan Valley, Lisburn
Tuesday 14 March, 10am-3pm
UUC, Coleraine
Wednesday 15 March, 10am-3pm
Donard Park, Newcastle
Wednesday 22 March, 10am-3pm                  
Tickets go on sale via the Ticketmaster website on Wednesday 8 March with prices ranging from £3 (for children under 16) to £5 (for adults). 
For more information on the UEFA Women's Under 19 Festivals follow the Irish FA on Twitter or Facebook, or go online at www.irishfa.com/UEFAWU19.
Larne UEFA WU19 Girls' Football Festival