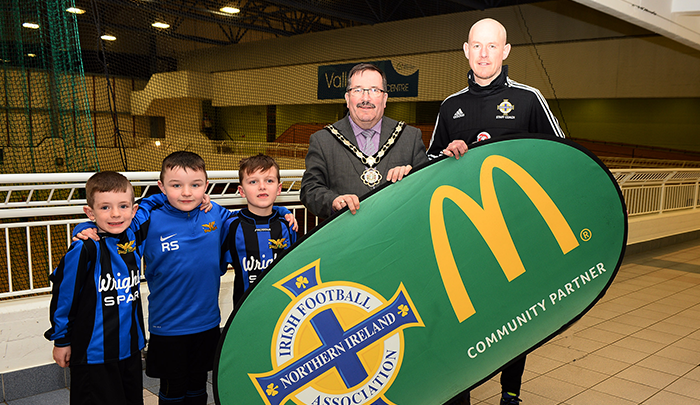 Young footballers took part in the Irish FA McDonald's East Antrim small-sided games programme at Valley Leisure Centre on Friday evening. 
The programme is the largest weekly local sporting event in the area and currently has 800 young boys and girls split over five age groups from 2006-2010.  
Over 100 local coaches and 20 clubs from the East Antrim area support the programme which takes place twice a week for 13 consecutive weeks. 
Games are played on small-sided pitches on both a Friday evening and Saturday morning at the Valley Leisure Centre and Ulster University Jordanstown.  
The boys and girls play football in a what is called a 'development over scores' environment, which makes for an enjoyable experience for kids of various abilities. 
The Irish FA's Regional Football Development Officer for Antrim and Newtownabbey, Steven Livingstone, who has coordinated the programme since its start in 2011, said: "It's great to see so many local players and coaches involved in football and enjoying the game. The programme has been expanding year on year and we have around 800 young players now involved.  
"I'd like to thank the Mayor (of Antrim and Newtownabbey), Councillor John Scott, for taking time out to come along and visit the games. I know John is a keen football fan and support from the council is hugely important in the success of the programme.  
"I would also like to thank Neil McRoberts from the McDonald's restaurant in Glengormley who is also a keen supporter of the programme." 
The Irish FA are aiming to double youth football participation rates in Northern Ireland by 2025 through the youth strategy Let Them Play. The small-sided games programme is central to achieving that aim and is hugely important in reaching the next generation of Northern Ireland football stars. 
If you would like to take part, please contact Steven Livingstone (steven.livingstone@irishfa.com) to register.
Images: Mayor of Antrim and Newtownabbey John Scott and the Irish FA's Steven Livingstone with some young players at the McDonald's small sided games event in Valley Leisure Centre.