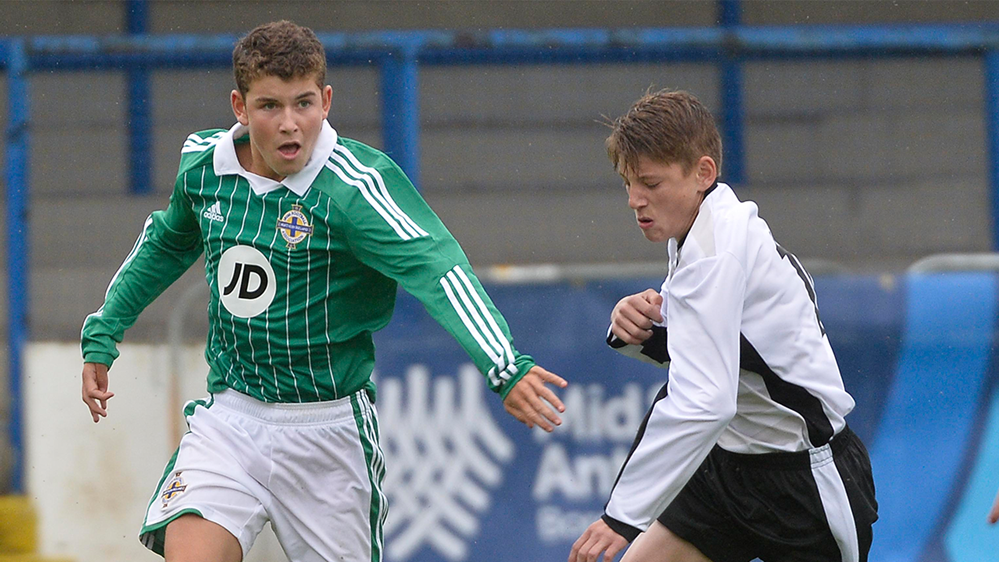 All the coaches working on the Irish Football Association's elite development programme buy in to its four pillars.
Coaching sessions within JD Club NI focus on either the technical, tactical, physical or psycho-social aspects of the game – or a mix of some or all of them.
Irish FA Elite Performance Coach Declan Devine believes the psycho-social work carried out by the coaches is particularly important.
He explained: "The programme is all about developing players on and off the pitch.
"If they want to be full-time professional footballers they will have to move away from home because unfortunately Northern Ireland does not have full-time professional clubs.
"That means we have to teach them skills to help them 'survive' when they do move away.
"The programme covers social skills and life skills, including advice on what they do with their time and what they should be eating, as well as all the necessary football skills."
However, the initiative is not just about developing players who may forge a career for themselves in Britain as Irish League clubs are also benefitting from it.
Declan revealed: "Six players from JD Club NI have made their debuts for Irish League clubs in the past year – and they were all aged either 16 or under. I would love to have more buy-in from our clubs as we can all work together to develop our players."
The former Derry City manager, who has coached young players aged from 12 to 21 in the Northern Ireland set-up, revealed getting players ready for competition is also a key part of JD Club NI.
The ultimate aim is to develop the international players of the future and the programme offers participants the opportunity to play against top quality opposition via tournaments, many of them international competitions, throughout the year.
Declan explained: "JD Club NI helps show our young players what it takes to become a professional footballer. We provide between 10 and 12 hours contact time for them each week, which is great.
"However, when you consider academies in clubs across England often offer between 25 and 30 hours, we know we have to work that bit harder."
JD Club NI has four regional centres - in Derry-Londonderry, Omagh, Lurgan and Belfast - where the younger players on the programme are coached.
The best players from the regions then progress to two performance centres for the older age groups which are located at Ulster University Jordanstown and the Mid-Ulster Sports Arena in Cookstown.
Declan, who is based in the MUSA in Tyrone but coaches in all the various centres, further revealed the JD Club NI coaches are constantly searching for potential new footballing talent.
"When I am not out on the pitch coaching I am out looking for players who could join our programme, and all of the JD Club NI coaches also undertake this extremely important scouting role," he pointed out.