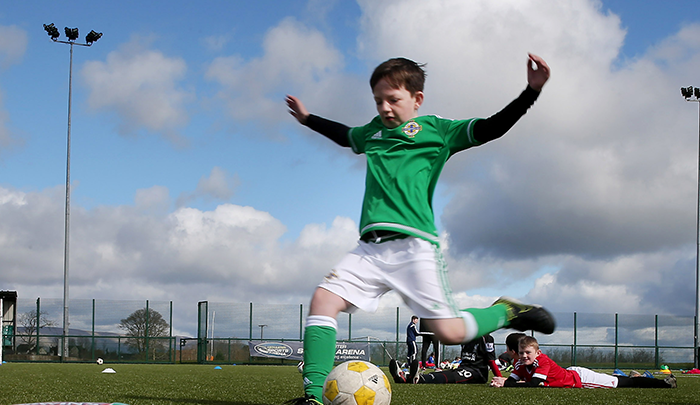 Bookings are now open for the Irish FA's Easter football camps which will be held across Northern Ireland in April. Click here to book your camp.
The three-day football camps, which are part of the Irish FA's Grassroots Development Programme, will be staged in 29 locations across the country.
They provide opportunities for children aged 5-13 to develop and improve their football skills in a structured environment with professionally trained and vetted staff.
Last year almost 8,500 boys and girls took part in camps, an increase of 30% on 2015.
Places at the Easter camps, taking place on 12, 13, 14 or 19, 20, 21 April, are available at a special discounted price if booked online.
Ian Stewart, Grassroots Development Manager, Irish FA Foundation, said: "It is great to see the considerable growth of the camps year on year. Our team of grassroots development officers, coaches and volunteers are looking forward to delivering our biggest Easter programme ever.

"The Irish FA Foundation are aiming to double youth football participation rates in Northern Ireland by 2025 through the new youth strategy Let Them Play. The football camps are central to achieving that aim and are hugely important as we seek to grow the game right across the country and find the next generation of Northern Ireland football stars."
For more information about the Easter football camps visit www.irishfa.com/footballcamps  or contact Michael Finch at the Irish FA Foundation on 028 90 669 559 or at mfinch@irishfa.com