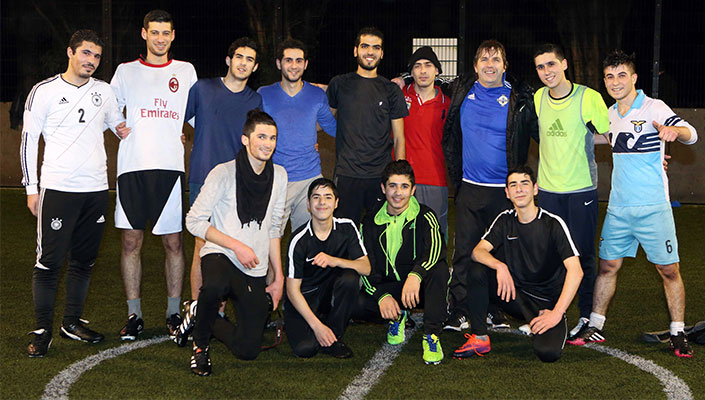 Syrian refugees are currently enjoying football coaching sessions in Belfast thanks to a new partnership between the Irish FA Foundation and the Extern charity.
Each week the refugees get two hours of top quality coaching at the PlayBall complex at Stormont as part of the inaugural programme devised by the two organisations.
The foundation's partnership with the Extern Syrian Refugee Support Team is part of its continued commitment to Football For All. Together they will develop initiatives using football as a vehicle to engage and integrate refugees into Northern Ireland communities. 
The inaugural eight-week programme is offering specialist coaching and nutritional expertise to a group of Syrian refugees.
The foundation's Director of Football Development, Michael Boyd, highlighted the foundation's continued dedication to football and social responsibility.
He said: "We are delighted to be teaming up with Extern to deliver highly beneficial programmes, and to be creating new partnerships that will help bring communities together in Northern Ireland. 
"We are also looking to offer more opportunities for participation that will help advance our objectives in the Irish FA Foundation Let Them Play youth strategy."
Extern Syrian Key Worker Gavin Connolly said the partnership between the two organisations "can only be beneficial" for the Syrian refugees.
The Foundation has donated training kit to Syrian players which they regularly use at the PlayBall sessions.
Andy Waterworth, the foundation's Diversity and Outreach Officer, said: "Outreach is very much embedded in the Irish FA Foundation philosophy and we recognise the hugely significant role football can play in bringing communities together. 
For further details on the foundation's outreach work contact Andy Waterworth at andy.waterworth@irishfa.com. 
See gallery for images from the coaching sessions with the Syrian refugees.