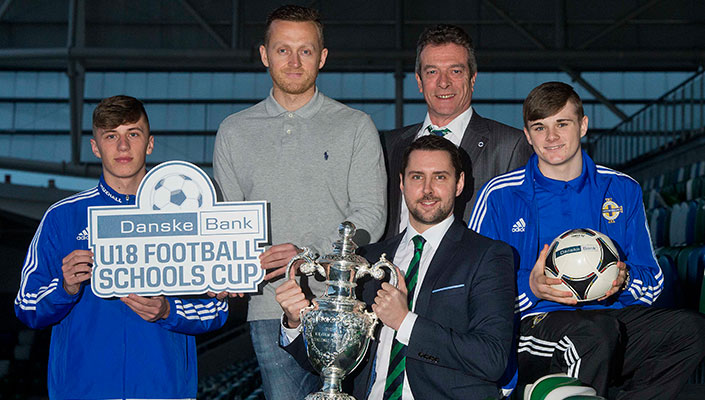 The Northern Ireland Schools' Football Association has announced an extension to its partnership with Danske Bank for this year's Northern Ireland Under-18 Schools' Cup.
The cup is the largest schools' competition in the country with 72 schools entering this year.
NISFA chairman Paul Kerr said: "We are delighted to have Danske Bank agree to sponsor one of our competitions. This year we have changed the structure of the Northern Ireland Schools' Cup. It is our biggest competition and we feel it should be on a par with the other schools' finals on St Patrick's Day.
"NISFA would like to thank Danske Bank for its continued support for schools football and we feel it is a partnership that can grow in years to come. This year we have organised the U16 and U18 schools' competitions so that both finals will take place on St Patrick's Day at the same venue (Seaview, home of Crusaders FC). The U16 final will kick off in the morning and the U18 final takes place in the afternoon." 
Mr Kerr also thanked the schools entering the competition, the teachers who freely gave up their time to coach the players, the parents who support and encourage their children and the boys who put in all the hard hours of training.
Ian Russell, Danske Bank Regional Manager, said: "At Danske Bank our youth partnerships are very important to us, from our support of this competition to our support of schools' rugby and GAA. We are committed to the development of young sporting talent across Northern Ireland. 
"We are very proud of our association with NISFA. A look at the current Northern Ireland squad gives a clear indication of how boys have come through schools' football, using it as a stepping stone to move into a professional playing career." 
Image: Declan Dunne from Mercy College and Ryan Strain from Northern Regional College joined Ian Russell of Danske Bank, Linfield's Sammy Clingan (ex-Northern Ireland and a former Schools' Cup player) and NISFA chairman Paul Kerr at the sponsorship launch at the National Football Stadium at Windsor Park.