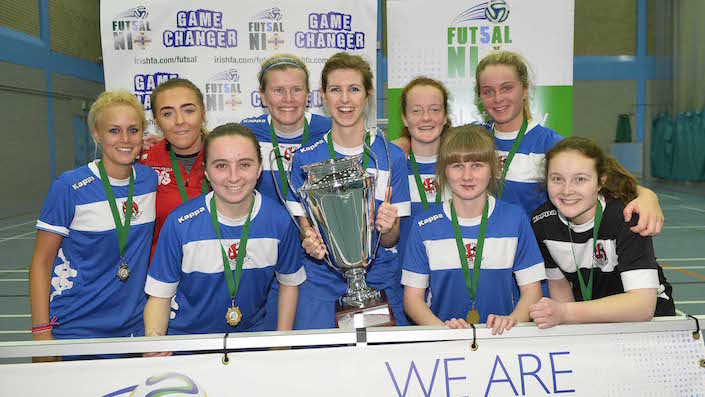 The goals flowed as north Belfast rivals Crusaders Strikers and Cliftonville battled it out for the title of Northern Ireland's senior women's futsal champions.
The Crues eventually came out on top in an enthralling decider, winning the game 11-7.
Some of the best female futsal players in the country took part in the 40-minute match, which featured some excellent individual performances.
Northern Ireland international Julie Nelson was solid in defence for the Crues and also weighed in with a few goals. One of her successful efforts saw her run out of defence and charge towards the opposition's area before unleashing a powerful shot from an almost impossible angle which flew into the top corner. 
Another impressive performer was Crues striker Aimee McNeill who looked comfortable in the senior environment despite only being 18. She held the ball up well and helped bring other players into the game, and she scored goals. There was also a solid display from Laura Armour who appears to be recovering well following a cruciate ligament injury.
For the Reds there were impressive performances from Marissa Callaghan and Louise Lewsley.
Callaghan, who scored for Northern Ireland in a senior women's international against Portugal last month, worked tirelessly throughout the 40 minutes, while Lewsley was solid in defence for Cliftonville and communicated well with the rest of the team.
Top scorers in the final were Aimee McNeill (Crusaders) and Marissa Callaghan (Cliftonville) who each bagged four goals apiece.
Irish FA President David Martin presented the winners and runners-up with their medals. He said he was impressed with the attacking prowess of both teams.
Image: Crusaders Strikers celebrate after being crowned national women's futsal champions. 
See gallery below for more images from the Crusaders Strikers v Cliftonville final.
Crusaders Strikers v Cliftonville