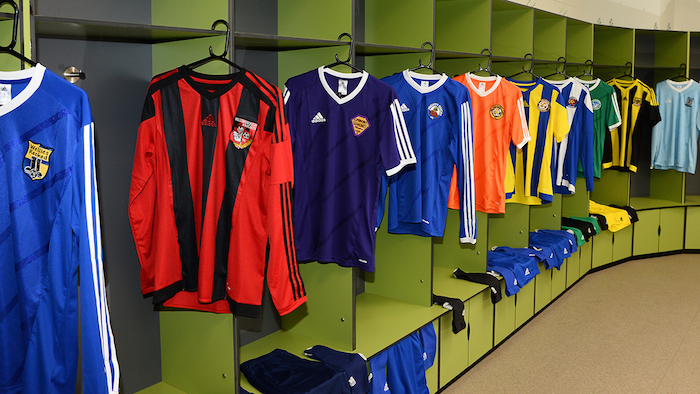 Veterans' football in Northern Ireland is on the up as 11 teams have been given a gift of new kits.
Teams such as Belfast Barca, Causeway Giants and the Lurgan Town Wannabes are among those who will benefit from the kits.
The scheme is part of a UEFA plan to encourage men aged 35+, 45+ and 55+ plus women aged 30+ to play football regularly.
The number of veterans' football clubs has more than doubled since 2015, from 15 teams to 38.
Former Manchester United and Northern Ireland legend Sammy McIlroy, who won 88 caps for his country, is a proud ambassador for the scheme.
He said: "The Back in the Game programme is a great initiative to encourage those who have stopped playing to re-engage with the sport we love.
"The social side of things is equally important as this programme promotes the physical and mental health aspects of wellbeing."
The veterans' teams who received new kits are:
Mid Aged Ulster Ladies
Belfast Barca
Causeway Giants
Lurgan Town Wannabes
SionSonics
The Ards Rangers High Flyers
Hillsborough Knights
Downpatrick Devils
The Newington Swansongs
The Mighty Ducks
Carnmoney Diamonds
Wellie Wrecked
There will be 23 regional Back in the Game festivals across Northern Ireland in 2017. Contact your Regional Grassroots Development Officer for more information.