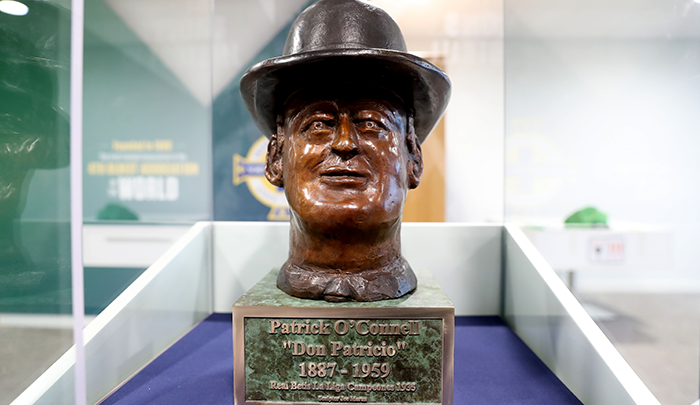 A bust was unveiled at the National Football Stadium at Windsor Park yesterday to honour the memory of a Dubliner who played for Belfast Celtic, secured the British Home Championship for Ireland at Windsor Park and won a La Liga title as a manager.
The Irish Football Association's new Education and Heritage Centre at the stadium - it is due to open next month - was a fitting venue for the unveiling of the sculpture of Patrick O'Connell as his picture features on a display wall in the centre's foyer.
The bust was unveiled by its creator, Dubliner Joe Moran, along with Northern Ireland assistant manager Jimmy Nicholl and Irish FA Chief Executive Patrick Nelson.
The event, organised bythe Patrick O'Connell Memorial Fund, was videod by Michael Andersen, a Spain-based producer who is currently working on a film charting O'Connell's life.
At the ceremony the amazing story of Patrick O'Connell was recalled by attendees.
O'Connell, like Jimmy Nicholl, starred for Manchester United during his playing career. In fact he was the first Irishman to captain United.
His career, however, began in his native Dublin with junior side Liffey Wanderers. In 1908 he turned professional with Belfast Celtic and then went on to play for Sheffield Wednesday and Hull City before signing for Man U in 1914 for a then British transfer record of just over £1000.
The centre back (born 1887) made his international debut against England in Dublin in 1912 and later captained Ireland as they won the British Home Championship in the 1913-14 season.
The title - Ireland's first - was clinched at Windsor Park thanks to a 1-1 draw against Scotland (following wins over England and Wales). During the first half of the Scotland game Patrick broke his arm but played on as there were no substitutions in those days.
O'Connell played at Old Trafford until 1919 and then switched to Scottish side Dumbarton.
He began his managerial career as player-boss of Ashington FC before heading to Spain where he would become a legend at both Real Betis and FC Barcelona.
His first managerial stint in Spain was with Racing Santander (five regional titles 1923-1928). Next stop was Real Oviedo for two years before he took over at Real Betis.
When he joined Betis they were languishing in the second division but by 1934-35 they were Kings of Spain, winning their one and only La Liga title to date. Known as El Mister and Don Patricio in Seville, he is the only Irishman to ever win La Liga.
Patrick also managed Barcelona from 1935-40 and is attributed with saving the club from financial ruin during the Spanish Civil War. He was inducted into the Barcelona Hall of Fame in December 2015.
He returned to Betis in 1941, winning the second division championship in 1942.
He then became the first man to manage Betis rivals Sevilla and led them to second place in La Liga in 1945 (the side he built won La Liga two years later).
In 1947 Patrick returned to Racing Santander, winning the third division title. He is the only man in Spanish football history to win La Liga and the second and third division titles.
Sadly Patrick didn't make much money out of the game and returned to London in 1949 drawing national assistance and begging on the streets of London for the last decade of his life.
He died destitute in February 1959 and was buried in an unmarked grave for 57 years at St Mary's Cemetery, Kensal Green, London.
The Patrick O'Connell Memorial Fund, set up at the Belfast Celtic Museum in August 2014, subsequently achieved its main goal by unveiling a memorial to him at St Mary's Cemetery last year. 
It also commissioned the bust, which is now being transported to Seville where it will be presented to Rafael Gordillo, President of Real Betis, at the La Liga game between Betis and Real Sociedad on the weekend of 3 March. It will be given pride of place in the Betis museum.
Image: The Patrick O'Connell bust.
See gallery for further pictures from the unveiling ceremony. Included in the pictures are Northern Ireland assistant manager Jimmy Nicholl, Irish FA Chief Executive Patrick Nelson, sculptor Joe Moran, Fergus Dowd and Alan McLean from the Patrick O'Connell Memorial Fund and Dublin Central TD Maureen O'Sullivan, a leading supporter of the fund.
O'Connell bust unveiled at National Football Stadium