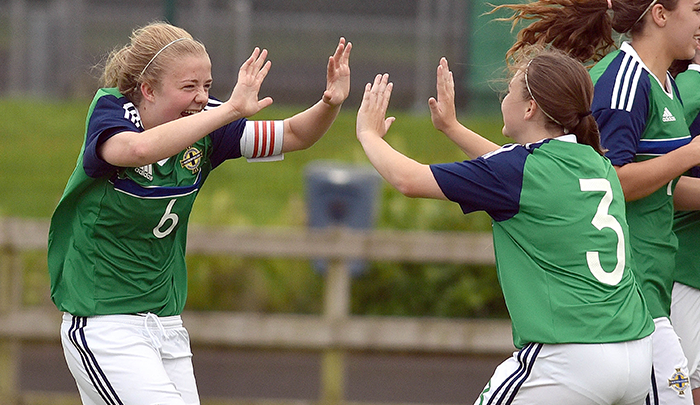 The Northern Ireland Under-19 Women continue their preparations for this summer's UEFA Women's U19 Championship as they welcome Turkey for back-to-back fixtures this week. 
The matches will be their first since competing in the Women's International Cup at the end of last year. The October tournament gave the team experience of facing some of the world's best sides in England, France and the USA, which they will be looking to build on.
The teams will meet at Mourneview Park tomorrow (14th February) and at The Showgrounds in Ballymena on Thursday (16th February), where manager Alfie Wylie will be giving an opportunity to some new players to gain experience of playing against a strong Turkey side.
He said: "It is a great opportunity for the girls to get a game again as we have been training regularly but haven't played since October.
"These fixtures give us the opportunity to play at Mourneview and Ballymena where we will play in the Summer."
The squad have been training together regularly in preparation for their curtain-raiser on 8th August at the National Football Stadium with sessions over Christmas and throughout January.
For these games Wylie will be looking to the more experienced players in the squad, such as Emma McMaster, Teresa Burns and Rebecca Bassett, to show their leadership on the pitch as he welcomes some new faces to the group.
He said: "The squad will feature a good mixture of experienced players alongside some new faces.  We have a few players coming in for the first time from as far away as the USA and Canada, so it will be an opportunity for us to have a look at some more options ahead of the tournament in the summer.
"The competition for places will be good for the group as we will be coming up against Europe's best."
The Turkish team have made it through to the Elite Round of the Under-19 Championships where they will host England, Czech Republic and Denmark in Group 2 from 5-10 April.
They will be facing Northern Ireland in preparation for this tough set of fixtures, with the hope that they are back again in August.
"Turkey are a good side for us to face as they could be back here later in the year. They finished second in their qualifying group and will be entering the Elite Round soon. It will be a good test to see how we perform against a well ranked team."
Details of the upcoming fixtures are as follows:
Northern Ireland v Turkey
Tuesday 14th February
3.00pm kick-off
Mourneview Park, Lurgan
Northern Ireland v Turkey
Thursday 16th February
3.00pm kick-off
The Showgrounds, Ballymena