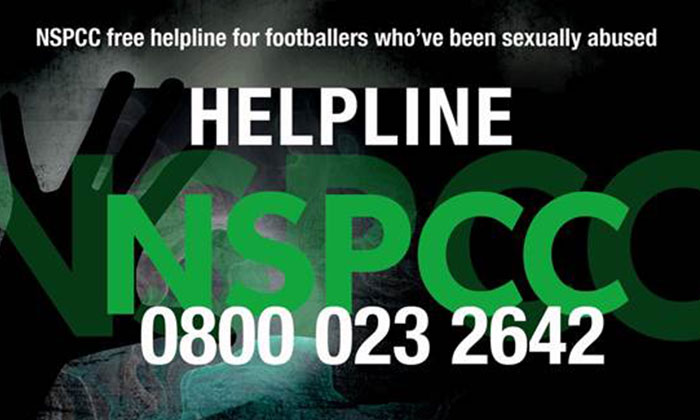 The NSPCC has launched a dedicated helpline for sexual abuse victims within football – and the Irish Football Association is supporting the initiative.
Following a series of shocking revelations this week about sexual abuse in English football, the leading children's charity has set up a dedicated hotline for victims of abuse across the UK.
The launch of the free independent helpline number follows former professional footballers Andy Woodward, Steve Walters and Paul Stewart speaking up this week about the abuse they suffered as young footballers in England.
NSPCC figures show that across the UK boys are over five times less likely to speak up about sexual abuse than girls. In 2015-16 Childline conducted 1193 counselling sessions with boys about sexual abuse compared with 6486 girls. Of these 177 were conducted with girls contacting the service from Northern Ireland with just nine being held with boys.
The NSPCC and Irish FA are now urging players and others involved in football from grassroots to the professional game to speak up using the NSPCC football hotline.
Staffed by independent, experienced NSPCC professionals, the helpline will offer support and guidance for victims of childhood sexual abuse within the game. The hotline will be available 24 hours a day on 0800 023 2642.
Head of NSPCC Northern Ireland Neil Anderson said: "There must be no hiding place for sexual abuse in football and many adults may have suffered such horrors as young players but have never come forward. 
"As this week's revelations have shown, people must be able to speak out and get the help they need and we know that can often be more difficult for men and boys.
"We welcome the Irish FA's commitment to helping those in the game get the help and support they need."
Kevin Doyle, the Irish FA's Safeguarding Service Delivery Manager, said: "We applaud this initiative by the NSPCC. The welfare of children and young people is of paramount importance to the Irish FA.
"Our commitment towards all children and young people involved in football is outlined in our safeguarding policies and procedures which recognise the duty of care everyone involved in football has to protect children and their responsibility to report any concerns relating to child welfare."
The Irish FA's safeguarding department completes appropriate vetting checks for all Irish FA staff and volunteers and for coaches and volunteers from affiliated bodies and football clubs.
Safeguarding training is provided ensuring participants can recognise signs of abuse or inappropriate practice and can respond appropriately. 
Further information is available on the Irish FA website and the Safeguarding Children and Young People in Football App.