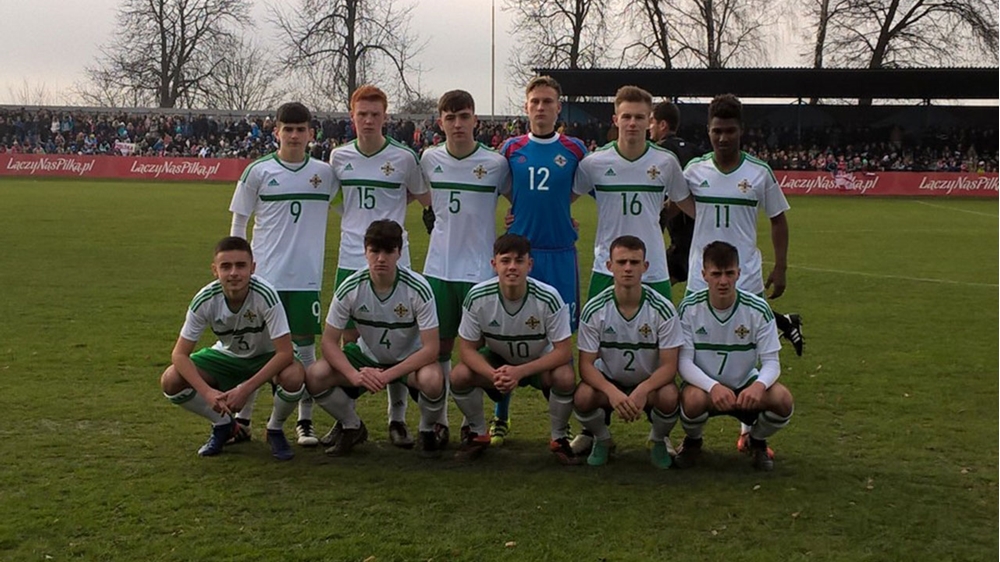 The Northern Ireland U16 team narrowly lost 1-0 in their second international challenge match against Poland at a packed stadium in Jaroslaw in front of a crowd of 5,000. 
The visitors opened brightly with Jack Scott and Andrew Whiteside showing up well in midfield.  However, it was the home team which came closest to scoring after 15 minutes when Kevin Rubaszewski hit the bar from 10 yards. 
Ten minutes later Rubaszewski made amends for this miss by outpacing two defenders down the left before squaring the ball to Blazej Czuban, who netted from close range. 
Northern Ireland responded well to this reverse and Polish goalkeeper Marcel Lotka was called into action to deal with a series of dangerous crosses from Callum Ferris and Ethan Warnock. 
Five minutes after the restart Alberto Almanzar was unfortunate to see his header clip the bar and go over with Lotka well beaten.
With ten minutes remaining Almanzar turned provider as his pass split the home defence but Lotka was quickly off his line to save at the feet of Connor Farrelly.
In the closing stages Northern Ireland piled on the pressure, forcing a series of corners and free kicks, but the Polish defence held on for a narrow win.
This game and the previous one on Monday were the first internationals to be staged in the region for 16 years.
FULL-TIME: Poland 1-0 Northern Ireland
Northern Ireland Team: Scott Pengelly, Jake Corbett, Ethan Warnock, Barney McKeown, Jack Conlon, Jack Scott, Connor Farrelly (c), Callum Ferris, Alberto Almanzar, Lee Upton, Andrew Whiteside
Substitutes: Ben Wylie replaced Upton 40 minutes, Lee O'Brien replaced Ferris 53 minutes, George Curran replaced Whiteside 69 minutes
Dean Corrigan replaced Corbett 72 minutes