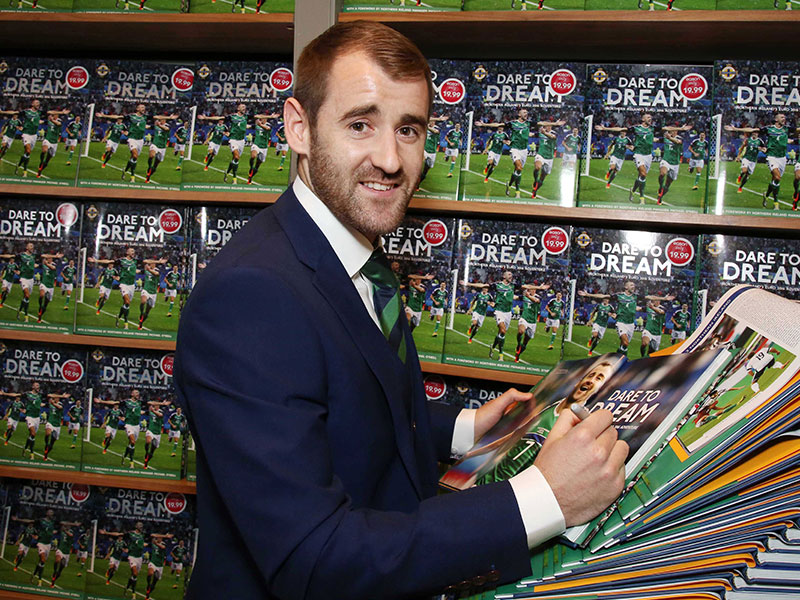 Northern Ireland manager Michael O'Neill and senior internationals Gareth McAuley and Niall McGinn have given their seal of approval to Dare To Dream, the book charting Northern Ireland's memorable Euro 2016 adventure.
The trio spent over two hours signing copies of the publication for more than 300 fans in Eason's Belfast city centre store last night.
Michael O'Neill, who penned the foreword for the book, and the two players said they were bowled over by the official launch event.
Dare To Dream, which is being billed as the definitive official record of Northern Ireland's Euro 2016 campaign, features more than 250 stunning colour photographs.
Published by the Irish FA in partnership with Belfast-based Blackstaff Press, it is available in Eason stores across Northern Ireland.
It is also available to purchase online now from Blackstaff Press (www.blackstaffpress.com).
The book features the pictures of William Cherry of Belfast-based photo agency Press Eye. It was written by Mark McIntosh, who is The Sun's football writer in Northern Ireland, and Nigel Tilson, a senior media officer with the Irish FA who is a former newspaper editor, business editor and sports editor.
Through the pictures, many of which are exclusive to the book, and words they have captured the buzz experienced by players and fans alike during the great Euro 2016 adventure.
Dare To Dream covers a lot of ground, from the qualification campaign through to the team's preparation for and participation in the tournament and, finally, the remarkable homecoming.
It provides insights into what went on behind the scenes, the manager's and the players' views on the Euro 2016 experience and highlights the Northern Ireland fans' incredible support for the team.
Dare To Dream book launch