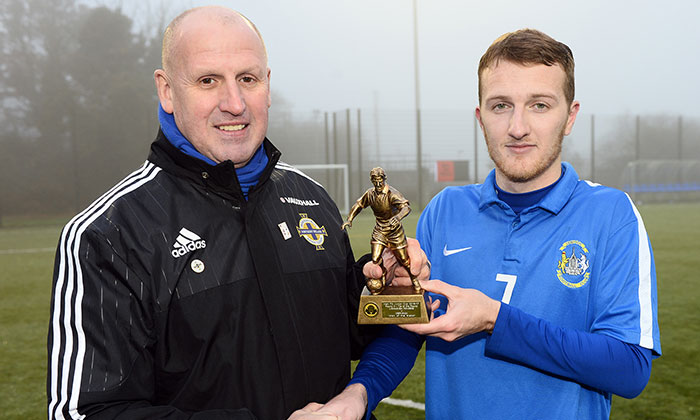 This weekend's Irish FA Junior Cup match between Lisnaskea Rovers and Dervock lived up to its billing as Tie of the Round. 
The visitors took only 17 minutes to take the lead when Lee Patrick found himself free in the 18 yard box and calmly passed the ball into the net leaving Lisnaskea goalkeeper Adam Langan stranded.
On 21 minutes Dervock's Johnny Nicholl hit a blistering shot only to see it deflected away for a corner, but Christopher McKee pounced from the set piece and scored to put his team 2-0 up. 
Lisnaskea fought back and got the goal they needed when John Paul O'Reilly stabbed the ball home after the Dervock defence failed to clear a free-kick.
Half Time: Lisnaskea Rovers 1 - 2 Dervock 
Dervock extended their lead to 3-1 on 53 minutes when Ryan Boyd found himself one on one with the 'keeper and kept his nerve to send the ball into the back of the net.
A Sammy McConaghie penalty on 72 minutes put Dervock 4-1 up and the match looked all but over.
However, Barry Flanagan pulled it back to 4-2 straight after the restart, and on 89 minutes Jason Flanagan saw his shot hit the back of the net after a deflection left the Dervock goalkeeper wrong-footed.
Sean Keenan then curled a corner into the back of the net in injury time to draw the scores level at 4-4.
90 minutes: Lisnaskea Rovers 4 - 4 Dervock 
The first half of extra-time saw both goalkeepers tested and the woodwork rattled but neither team could find the vital goal.
The second half of injury-time saw Dervock try to take control but Lisnaskea's confidence was high and both sides cancelled each other out.
Extra-time was over, which meant a penalty shootout.
Both sides scored their opening three penalties only for Lisnaskea's Sean Keenan to step up and see his spot kick saved.

Dervock converted their remaining penalties to win the match and progress to the fourth round.
Junior Cup 'Tie of the Third Round'