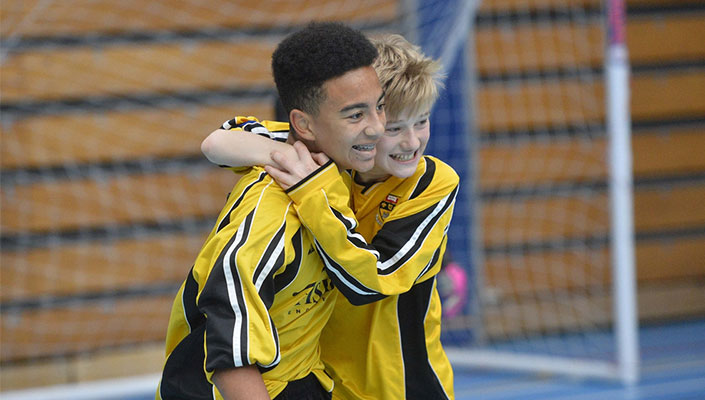 The National Finals of the Post Primary Futsal tournament recently took place at the Lisburn LeisurePlex. 
The Irish FA launched the first ever Post Primary Futsal Cup in October 2016; where the winners from each of the six regional heats battled it out to become overall national champions.
Overall there were 204 teams in the 12 tournaments, which culminated in a very tense and exciting tournament in Lisburn.
The IFA would like to thank all schools that participated in the post primary Futsal and congratulate our winners at all age groups.
The Irish FA Futsal Strategy 2016-2020 was launched in June this year. One of the main objectives is to engage schools to participate in Futsal Festivals and competitions to highlight the technical and physical benefits Futsal can have for participants.
The target for the Irish FA is for participation opportunities in schools to lead to the development leagues for both boys and girls.
Futsal is the only version of 5-a-aside football that is supported by FIFA and UEFA who organise World and European Champions for clubs and national teams every year.
It is played to touch times and all players are free to enter the penalty area and play the ball over head height. As Futsal is predominantly played indoors it is also well suited to school facilities.
The winners were:
Year 8/9 Boys: Enniskillen Royal Grammar School
Year 10/11 Boys: Laurelhill Community College
Year 8/9 Girls: St Cecilia's College
Year 10/11 Girls: Parkhall College
Year 12 Girls: Mercy College