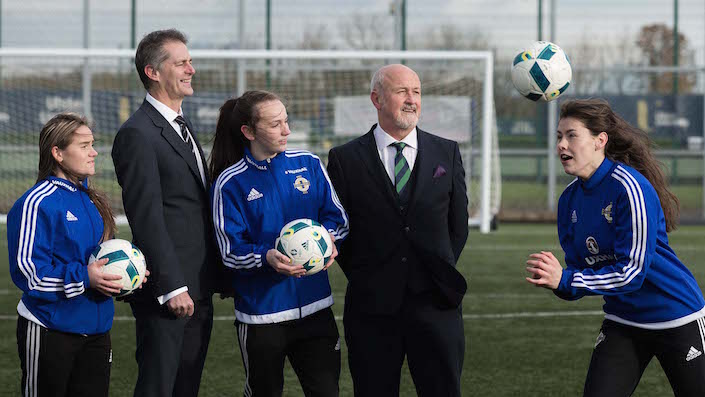 The Irish Football Association today officially launched a new Girls' and Women's Football Academy.
The initiative is a partnership between the association and Ulster University. Irish FA Chief Executive Patrick Nelson explained the academy is a "natural progression" from the Regional Girls' Excellence Programme which has been based at the university for the past nine years.
He said it will provide players with extra coaching and extra fitness training at the university's world class facilities and will also tap into some of the best coaches and sports scientists in Northern Ireland and beyond.
Mr Nelson added: "Through the academy at Ulster University we hope to encourage players to stay at home to develop their game as well as receiving education here. We envisage this will ultimately help to strengthen both our international and domestic teams."
Ulster University Vice-Chancellor Professor Paddy Nixon explained the Irish FA will join a number of other sports academies already based across the university's four campuses, including the Andrew White Cricket Academy and Belfast Met Football Academy.
"With access to Ulster University's world-class sporting facilities and expert coaching, these academies will create a pathway for talented young athletes to develop and thrive," the professor said.
Details of the academy were revealed at an event in the university where it announced a major three-year commitment to sport.
Ulster University revealed it is to invest nearly £1million into a programme which will help sport to thrive at all levels in Northern Ireland, from elite athletes and university teams to local schools and community clubs. As part of this commitment to the development of sport in the region, Ulster University will fund over £300,000 worth of scholarships as well as create nine new Sports Development Officer posts. New partnerships with a number of sporting national governing bodies will also be formed.
More than 50 Ulster University students across 14 sports including football, Gaelic games, hockey and golf have been awarded Performance Sport Scholarships for 2016/17. The scholarships provide funding towards the course fees of high performing athletes for one year. The students will benefit from flexible study options as well as specialist sports performance services. These include strength and conditioning coaching, nutritional advice, sports psychology and mentoring.
At the launch event the university, in partnership with a range of sporting national governing bodies, also revealed its plans for the new sports development posts. These posts will be responsible for driving forward participation and performance in football, hockey, athletics, rugby, basketball, cricket, golf and Gaelic games, both at Ulster University and in the community.
UU Vice-Chancellor Professor Paddy Nixon said: "This three-year package of support further cements Ulster University's reputation as a leading university for sport on the island of Ireland, from our sporting successes to our academic excellence and world-leading research in physical activity and exercise science."
Photo Caption: UU Head of Sports Services Dr. Nigel Dobson and Northern Ireland Women's Manager Alfie Wylie are joined by some of the Northern Ireland under-19 internationals