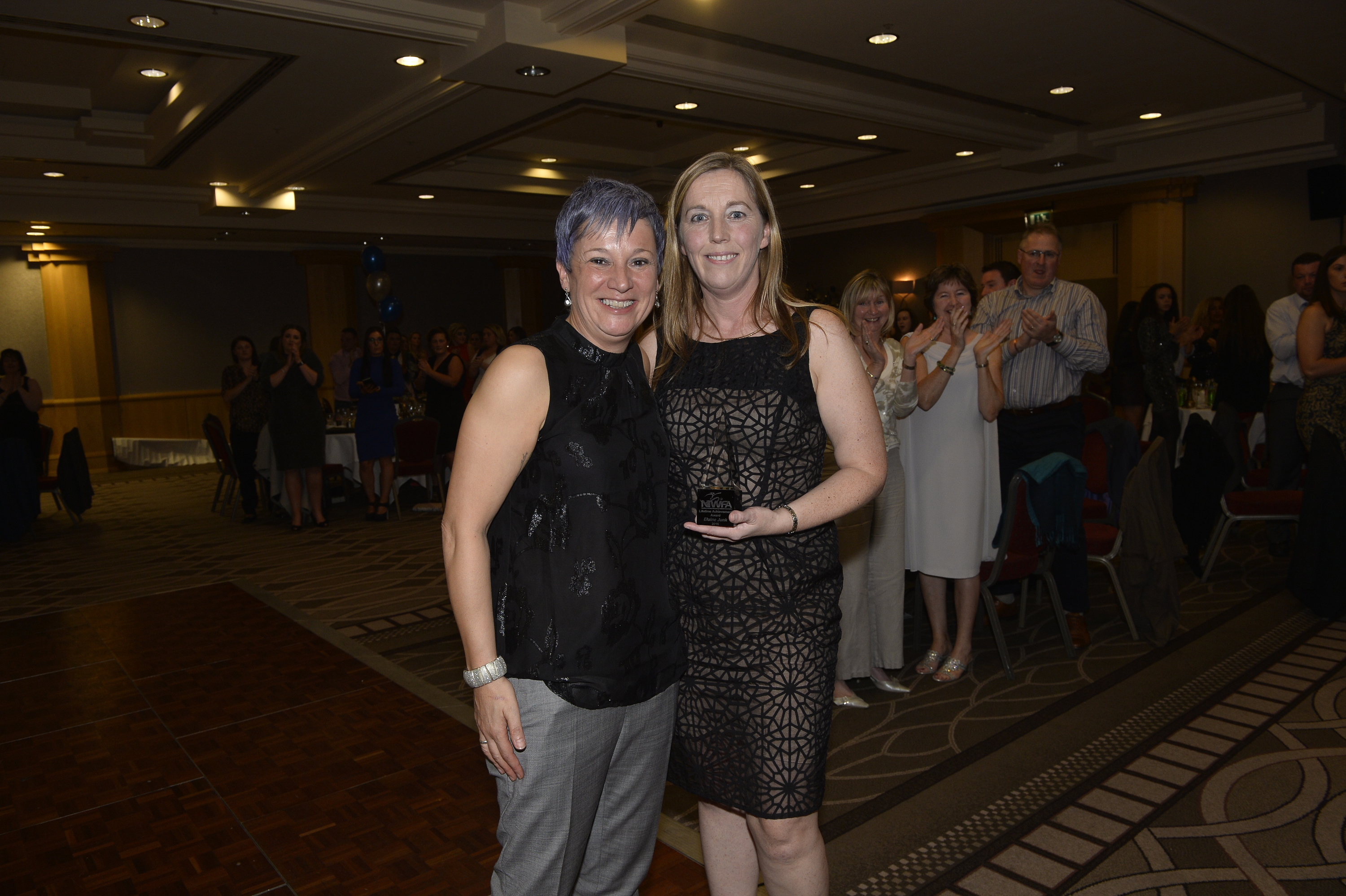 The Hilton Hotel in Belfast played host to the NIWFA end of season awards dinner on Saturday night when awards were presented to players throughout the national divisions in women's football.
Elaine Junk was awarded the Lifetime Achievement Award. Elaine is the chair of Mid-Ulster Ladies, former NIWFA chair, NIFL Women's Premier Committee vice-chair and a council member of MUFA and Irish FA.
Sue O'Neil from NIFWA said: "Elaine was well deserving of the Lifetime Achievement Award for all the hard work she has put into football over the years and the NIWFA committee were delighted to present her with this accolade.
"The awards evening went very well with everyone enjoying themselves. It was great to have such influential women as Jenny Palmer MLA and Sara Booth of the Irish FA speaking about what football has done for them and how they continue to be involved in the sport."
Other winners on the night were:
U19 Top Scorer - Ebony Leckey Player of the Year - Megan Bell (Linfield Swifts) Fair Play - Lisburn Swifts
North 2 Top Scorer - Sara-Lou McLaughlin & Clare Shaw (Belfast Celtic), Gemma Lambe (Chimney Corner) (all with 13 league goals) Player of the Year - Shelly Stothers (East Belfast) Fair Play - St Oliver Plunkett
South 2 Top Scorer - Kerry Taggart (Lurgan Town) Player of the Year - Donna Marie Carson (Killyleagh YC) Fair Play - Dromara Village
North 1 Top Scorer - Hollie Johnston (Carnmoney) Player of the Year - Toni-Marie Mailey (Shamrock) and Cleo-Neece Taggart (Coleraine) Fair Play - Foyle Belles
South 1 Top Scorer - Nicole Graham (Valley Rangers) Player of the Year - Kyla Trainor (Downpatrick) Fair Play - Comber Rec
Championship Top Scorer & Player of the Year - Chloe McGlade (Cappagh Spurs) Fair Play - Lisburn Ladies Fair Play Cup Lisburn Ladies Lifetime Achievement Elaine Junk (Mid Ulster Ladies Chair, former NIWFA Chair, NIFL Women's Premier Committee Vice-Chair, MUFA & IFA Council Member)