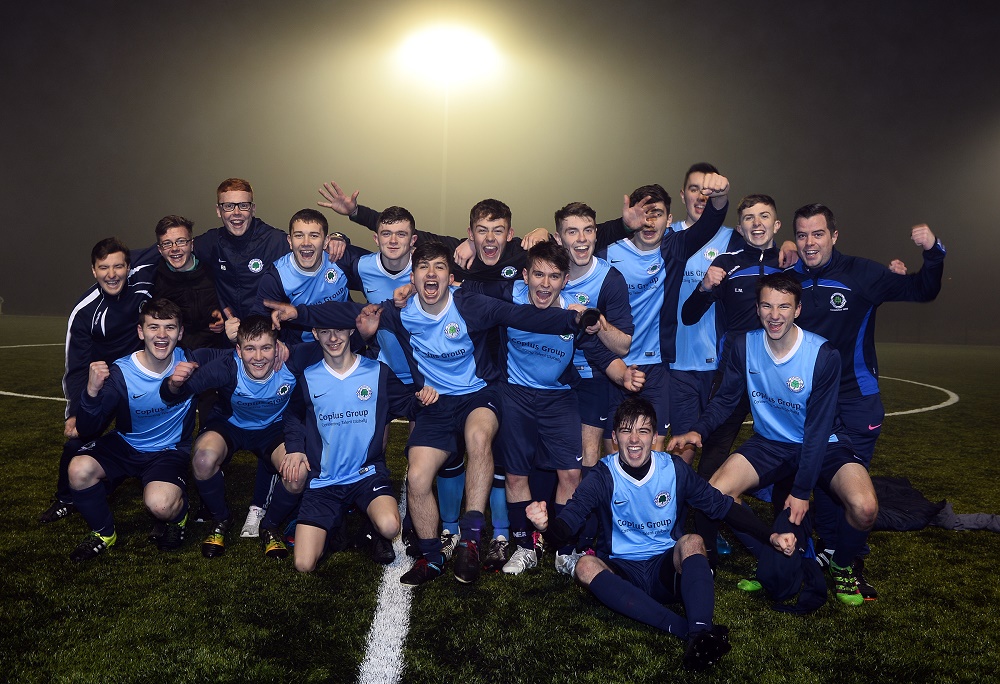 St Mary's (Newtownabbey) and Knockbreda met in the "Tie of the 2nd Round" of the Harry Cavan Youth Cup at a foggy Breda Park.
It was Knockbreda who settled first and it was 18 mins into the game when their no 9 Dylan Galbraith put a perfect pass into the path of no 10 Owen Gerry who dispatched a low powerful shot past the St Mary's keeper.
St Mary's started to come into the match but it was Knockbreda who doubled their score on the 33rd min with neat inter passing again between Dylan Galbraith and Owen Gerry which saw Gerry calmly latch on to the inch perfect pass and side foot it into the net for his second goal.
Not to be outdone St Mary's pulled one back on the 38th min when their no 9 Rory McFadden shot from the corner of the 18yrd box and saw his shot rise and find its way into the net courtesy of the underside of the crossbar.
St Mary's drew level on 43 mins when the Knockbreda no 6 Jackson Harvey deflected a shot on goal into his own net.
Half Time: St Mary's (Newtownabbey) 2 - 2 Knockbreda
The second half started with a rejuvenated Knockbrda taking the lead with blistering free kick from around 35 yards out from Christopher Murray on the 63rd min leaving everyone stunned with the power and accuracy which went straight in.
Both sides battled hard and St Mary's got the equaliser on 86 mins when Michael Turley hit a low hard shot from the edge of the D that left the Knockbreda keeper stranded.
Knockbreda found themselves in a awkward situation as the 90 mins approached as they had used all their 3 Subs and had to play the rest of the game with only 10 men as they lost a player with suspected concussion.
As hard as they tried neither of the teams could muster the winner and the dreaded extra time was upon us.
Full Time: St Mary's (Newtownabbey) 3 - 3 Knockbreda
The extra time periods saw both sides have chances and only for the continual excellent displays by both keepers the score stayed the same 3-3 Next came penalties, and this became a epic.
Both sides scored their first 3 then both missed their 4th so at this point we are all equal so keep up as this story unfolds.
Both sides scored their 5th and 6th only for 7th to be missed again by both. Penalties 8 and 9 were converted and then Knockbreda's Ethian Quinn stepped up for the 10th and missed, advantage St Mary's.
The pressure was all on St Mary's no 8 Alan Murphy and he held his nerve and sent St Mary's through to the 3rd round of the competition.