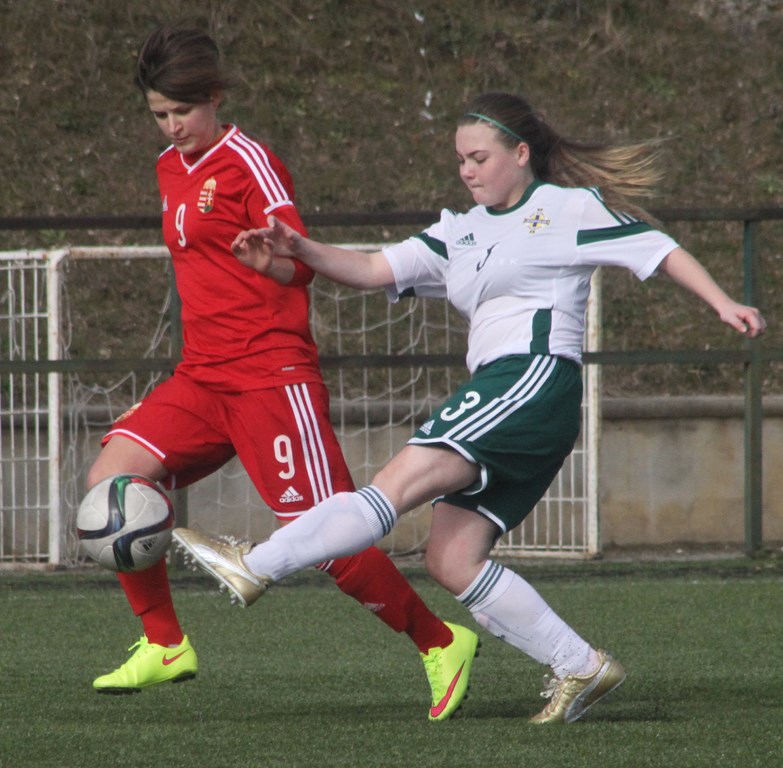 It was a game of few scoring chances, and Northern Ireland had the best of those with Rebecca Bassett thwarted in the early stages on a couple of occasions by the excellent Hungarian goalkeeper, Barti.
While the Hungarians enjoyed the most of possession throughout the match, Northern Ireland's defence dealt capably with their few direct threats on goal, and the central defensive pairing of Caitlyn Hamilton and Yasmin White were impressive. The full backs, Lauren Robson and Stacey Bryce also played their part in containing the lively Hungarians.
In midfield, Addie Magee worked tirelessly and effectively, earning the Player of the Match accolade, with good support from Abbie Magee, though all the players deserve credit for their work throughout the eighty minutes.
Coach Noel Mitchell was pleased with the team performance: "The game plan was to get the ball down and pass it, and the players responded very well. They kept their shape well too. We knew from the first game that the Hungarians would press hard, so we responded by pushing up and countering."
Team: Lauren Currie, Kerri McIntosh, Lauren Robson, Yasmin White, Caitlyn Hamilton, Abbie Magee, Megan Beattie, Chloe Orr, Louise McDaniel, Chelsea Cochrane, Rebecca Bassett. Substitutes: Caiomhe Callaghan, Stacey Bryce, Niamh Ruddy, Morgane Beggs, Cleo-Neece Kearney, Megan McMurray, Kerry Eddis, Brooke Baine.