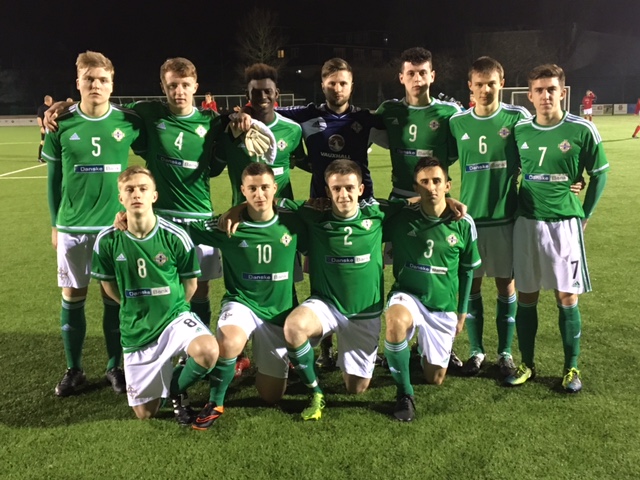 Jersey Under 18

2

v

8

Northern Ireland Under 18

Lorne Bickley 50 mins

David Parkhouse 9, 37 &44 mins

Shay Miley 68 mins

Nathaniel Ferris 80, 82 & 90 mins

Matthew Henry 58 mins

Sean Toland 65 mins

Thursday 4 February 2016

Springfield Stadium

Kick Off 7.30 pm
Northern Ireland dominated from the start and should have gone ahead after 4 minutes when a free kick by Ronan Young deflected off the Jersey wall straight to David Parkhouse but the striker stabbed the ball past the post from 10 yards out. Five minutes later Parkhouse made amends by running through the home defence and slotting the ball past the keeper.
On 37 minutes Parkhouse doubled the lead and on the stroke of half time the tall striker completed his hat trick by converting a penalty when Salow Jallow was brought down.
After the interval the home team opened brightly and Lorne Bickley was just off target with a low drive. The Northern Ireland defence did not heed this warning and Bickley reduced the leeway when he rounded Reece Kane and slotted the ball home from an acute angle. Bickley then failed to lob Kane when well placed.
With Man of the Match Ronan Young pulling the strings in midfield Northern Ireland regained control and on 58 minutes Young set up Matthew Henry to score from close range and soon afterwards Sean Toland added the fifth following good work by Young.
Jersey added a second goal with a free kick by Shay Miley but substitute Nathaniel Ferris completed a quick hat trick in the last 10 minutes to underline Northern Ireland's superiority.
NORTHERN IRELAND
Reece Kane
Ronan Wilson (captain)
Adam McCracken
Caolan Marron
Karl Hamill
Ryan Nimich
Ronan Young
Lloyd Anderson
David Parkhouse
Jonathan McCaw
Salou Jallow
SUBSTITUTIONS
Patrick Cafolla replaced Nimich 45 minutes
Matthew Henry replaced Jallow 55 minutes
Sean Toland replaced McCracken 63 minutes
Reece Neale replaced McCaw 63 minutes
Joshua Connery replaced Marron 70 minutes
Nathaniel Ferris replaced Parkhouse 73 minutes
Jack Ferguson replaced Kane 79 minutes