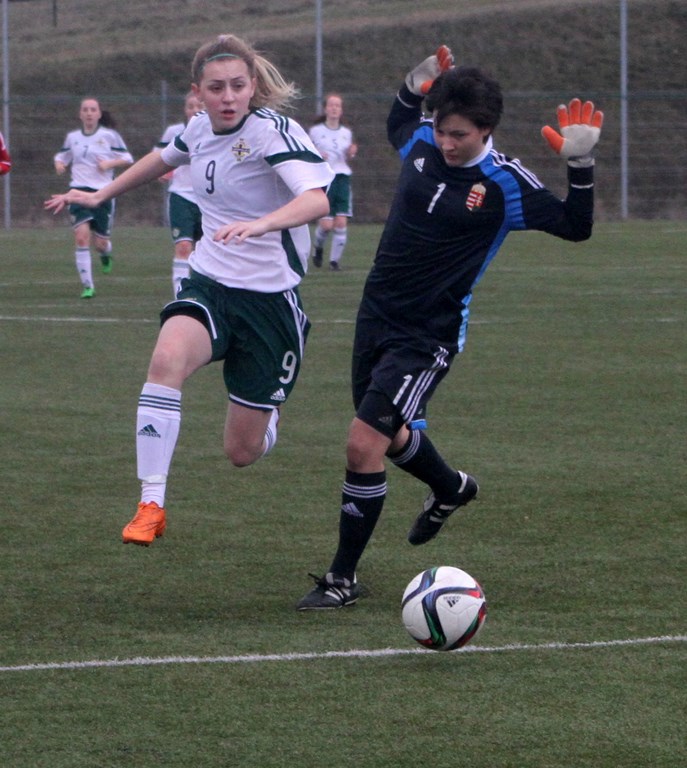 Northern Ireland started brightly, with Rebecca Bassett and Emma McMaster creating early scoring opportunities.

Caitlyn Hamilton at the centre of the Northern Ireland defence put in a Player of the Match performance, as Northern Ireland played good possession football, but it was Hungary who opened the scoring after half an hour when Mikes pounced on a loose ball in the box after a good save from Lauren Currie.
Both teams made a number of changes for the second half. The Hungarians looked the more settled side and two late goals, from Mikes and Vasas, gave them a 3-0 victory.

For Northern Ireland , Chelsea Cochrane played well in a midfield role, and Morgane Beggs went close on a couple of occasions. Lauren Currie distinguished herself with some good saves in the closing stages of the match.
Team Manager Alison Nicholl was a little disappointed with the scoreline but noted some good performances and hoped that the team would bounce back in the second match of the short tour on Thursday.

Northern Ireland: Lauren Currie, Stacey Bryce, Lauren Robson, Yasmin White, Caitlyn Hamilton, Emma McMaster, Megan Beattie, Chloe Orr, Rebecca Bassett, Niamh Ruddy, Chelsea Cochrane.

Substitutes: Caimhe Callaghan, Louise McDaniel, Morgane Beggs, Abbie Magee, Kerri McIntosh, Cleo-Neece Kearney, Brooke Baine, Megan McMurray, Kerry Eddis