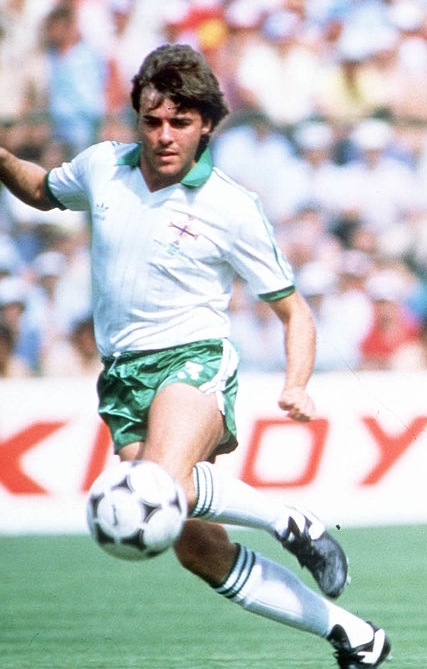 Mal represented Northern Ireland at two World Cups and it's something which still fills him with immense pride.
"Taking part in one World Cup would have been fantastic, but to go to two tournaments was amazing," said Mal, who won 91 caps over a 14-year period.
The former Manchester United, Luton Town and Chelsea defender, who works as a Football For All development officer with the Irish FA these days, says his experiences at the World Cups in Spain (1982) and Mexico (1986) provided "fantastic memories".
And he is urging the current crop of Northern Ireland players to embrace the Euros to the max.
Mal has no doubt the team will be well prepared for the European Championship finals this summer given Michael O'Neill's well-documented attention to detail.
He explained good preparation was all-important at the two World Cups he played in.
He revealed Billy Bingham, who managed Northern Ireland at both tournaments, was very well organised.
"Before the 1982 World Cup we had a training camp in Brighton. We trained really hard. It was like pre-season. People can't believe we trained hard but Billy knew what he was doing. It turned out to be great preparation as we were one of the fittest teams at the tournament."
It was a similar story when the squad spent three weeks in the US – in Albuquerque, New Mexico - before heading across the border to Mexico in the summer of '86.
"It was really hard graft. Billy had us running up mountains to help us prepare for that tournament," he revealed.
The bond between the players in the current squad is often cited as a key reason why Northern Ireland performed so well in the Euros qualifying campaign.
And Mal agrees that a spirit of togetherness is a must if teams are to be successful.
He explained: "The Northern Ireland players had a great bond at both World Cups. Even though we had a settled team anyone coming into the team or squad knew their role. It also helped that Martin O'Neill was a great captain and motivator. There was fantastic camaraderie."
Mal remembers the Spanish tournament being very physical. The Northern Ireland players could hold their own but were on the receiving end of some robust challenges in their opening group game against Yugoslavia, which ended 0-0.
Another draw followed against Honduras – one each – before the game that has just been voted Northern Ireland's Greatest Ever Sporting Moment by Belfast Telegraph readers. That, of course, was the 1-0 win over Spain in their own backyard.
Mal was sent off an hour into that game in Valencia after pushing an opponent in the chest – he believes he should have received a yellow rather than a red card - but thanks to an outstanding performance by Pat Jennings they held on to the lead provided by a famous Gerry Armstrong strike just after half-time and ended up top of their group. "I believe that was the best result ever secured by a Northern Ireland team and I was very proud to have played a part in it," he said.
In the next group phase they drew 2-2 with Austria before bowing out of the competition following a 4-1 defeat to a star-studded French team.
Results in Mexico did not go quite as well, but the tournament provided Mal with another real highlight of his career.
After a 1-1 draw against Algeria and a 2-1 defeat against Spain in their opening group games, the boys in green faced the mighty Brazil.
"When I was growing up Brazil were always the team to watch at World Cups. To play them on that stage was fantastic. It was a dream come true. There was a real carnival atmosphere at the game. It was a fantastic occasion even though we lost 3-0 to them," he said.
While, naturally, Mal remembers all about his team-mates and playing at the two World Cups he is also quick to praise the fans who followed the team. They were small in number but big on noise.
And he has no doubt the Green and White Army will be just as vocal during Northern Ireland's first appearance at a European Championship finals.
His final word of advice for the players who will be representing our country in France is: "Opportunities like this do not come around very often. I would say to the players they should make sure they are as fit as they can be. They should embrace the tournament fully and give it everything they have."