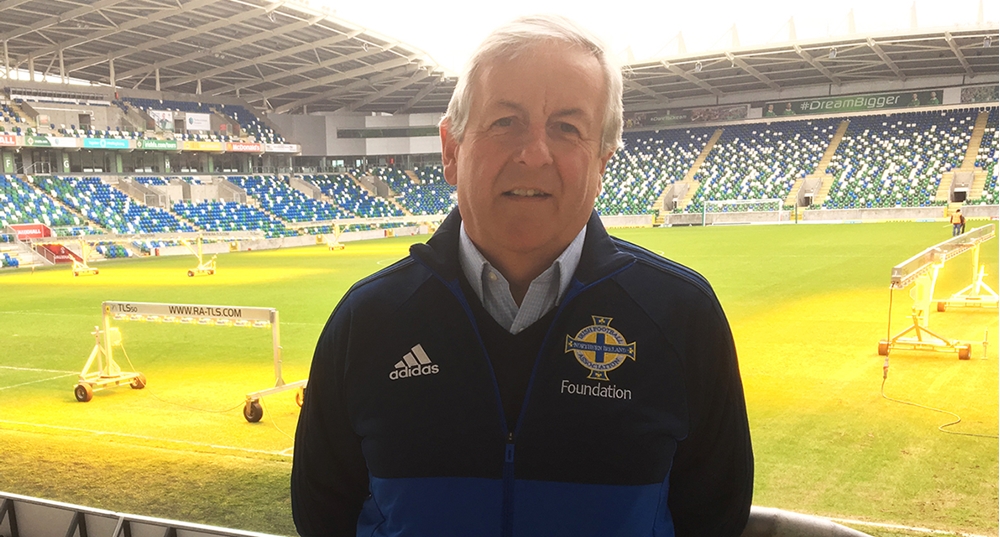 In an ongoing Q&A series we are highlighting the people who make the Irish Football Association tick…
Name: Gerry McKee.
Job title: Irish FA Foundation Admin/Development Officer (responsible for Northern Ireland Boys' Football Association).
How long have you worked for the IFA? 
12 years (including almost a year with the Irish FA Foundation).
What's your role within the association?
Within the Foundation I am responsible for all the various functions NIBFA performs for youth football, including affiliation, insurance, player registration and so on. When I started NIBFA had around 500 teams registered. NIBFA currently has almost 1400 teams affiliated and insured.
I also organise the NIBFA National League, which has 140 teams, as well as NIBFA national competitions; this year there was a total entry of 530 teams.
What is a typical day for you?
I am not sure any day is typical. I can get calls from leagues, clubs and parents requiring clarification on rules or advice on players seeking clubs or clubs seeking players, insurance queries or I can be recording information relating to the previous week's games for the NIBFA treasurer and disciplinary committee. All that is only possible with the vital support I get from William Ewart.
Generally the day will involve organising the week's events. Most weeks NIBFA would have an average of 70 games so there is a need to secure facilities and referees and provide up to date information on the NIBFA websites and social media channels. 
Unlike the senior game NIBFA relies on councils regarding the availability of facilities so securing venues for games throughout the season can be a challenge.
What's the best thing about your job?
Virtually every day will throw up a new challenge. Every query will be different. Also, and most importantly, I love what I do.
Where did you work – and in what roles – before you joined the IFA?
For 26 years I was manager of a training organisation in Portadown that specialised in child care and we ran a children's day nursery alongside that. I had my own engineering business for four years before I got the role in the training organisation.
I also spent a year teaching craft metalwork in a secondary school. One year was enough. That gave me total respect for teachers. That is a tough gig. The mental tiredness was difficult to get to grips with. I left to start my own business.
What are the biggest challenges in youth football? 
NIBFA are currently reviewing the structure of and relationship between all leagues in Northern Ireland. The aim will be to have the best teams playing against each other week in, week out. That should support player development and provide a consistent challenge for teams.
The National League addressed the overarching aim and to a large degree has helped improve youth football but in some cases there are better teams in other leagues. Creating progression routes for those teams is the challenge.
Another challenge is tackling the barracking of match officials by parents and spectators. I believe TV analysis of football has undermined the role of the official where every decision is minutely dissected.
I would like those attending games to just allow the ref to get on with the game; player dissent and abuse of officials stems from all the shouting that goes on.
There's a new intake of parents and players every season and it seems that tolerance levels in society reduce with every passing year.
What are you most proud of?
Apart from my family it must be the day nursery in Portadown. I instigated and led the project that has helped to sustain up to 20 jobs since 1997 in an area that had and has limited opportunity for employment for young women.
What qualifications do you have?
They are mostly in engineering. I am a qualified sheet metal worker/ welder with an Advanced City & Guilds in Mechanical Engineering. I also have a diploma from the Institute of Supervisory Management.
Who (if anyone) has been your hero, sporting or otherwise?
Anyone who ever pulled on a shirt for the mighty Spurs. Obviously Big Pat and Steve Perryman were the main men; the exception to that would be a Mr S Campbell.
I also had a great interest in keepers, including Lev Yashin, the USSR keeper in the '60s, Peter Bonetti and Gordon Banks. I probably harboured an ambition to be a keeper but at five foot nothing I had a slight disadvantage
In music it had to be Phil Lynott of Thin Lizzy. He was a top man. Not many would see me as a rocker but I was privileged to see Lizzy live many times, including the original three-piece with Eric Bell.
What advice would you give to someone starting out?
To quote Morgan Freeman in The Shawshank Redemption… get busy living.
Any other interesting facts about you that we should know?
I have been organising football leagues and competitions on a country-wide basis since 1982 and started the Mid-Ulster Youth League in 1996.
For 25 years I was manager of teams that participated in the Milk Cup; 21 of those were with County Armagh.
I had the pleasure of working with some of the current Irish FA Foundation staff in the teams and in coaching roles. Alan Teggart and Ross Redman were exceptional players who have had long and successful careers in the Irish League. I trust they would have positive things to say about my managerial qualities, wouldn't you chaps?
I brought a young Darren Murphy on board, and again Murph (I hope) would acknowledge the influence I had in his development as a coach and manager - and how, with him being a ginger, I helped his integration into mainstream society.