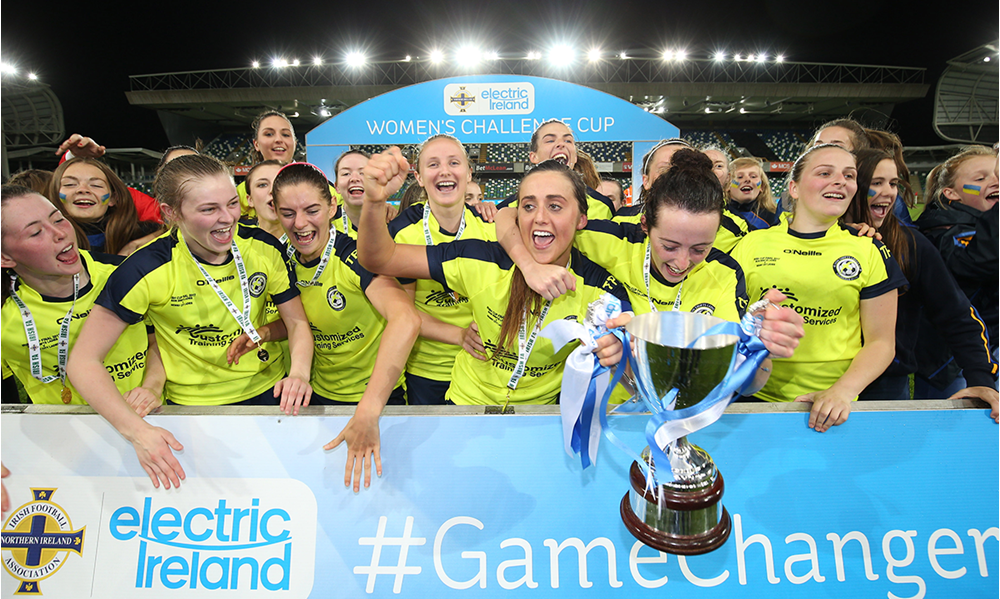 Holders Sion Swifts Ladies will be among the favourites to lift this year's Electric Ireland Women's Challenge Cup.
The entry portal for the competition, which produced some excellent games in 2017, has now gone live and the closing date for entries is Wednesday 28 February.
This year's final will once again be staged at the National Football Stadium at Windsor Park – on Saturday 22 September.
Sion Swifts Ladies, who defeated Newry City Ladies 2-0 in last year's final back in September, finished runners-up to Linfield Ladies in the Danske Bank Women's Premiership in 2017 and the Blues will also be expected to be in the mix for a trophy they last won in 2016. 
Cliftonville, winners of the Irish Cup in 2015, had a hit and miss season in 2017 compared to previous years, however they are expected to be serious challengers on all fronts in 2018.
And it's a similar story with Crusaders Strikers, traditionally one of the strongest teams in the league.
Both the Crues and the Reds are set to have stronger squads in 2017 as several of their players will effectively be returning from international duty; the players in question were not available for many weeks last year because they were involved with the Northern Ireland squad that took part in the UEFA Women's U19 Championship last August.
And Glentoran Belfast United are another side expected to be stronger this year as they will also have some Under-19 internationals back in their ranks. 
Newry City Ladies, who finished third in the Premiership last time out, lost quite a few players in the close season and are an unknown quantity at present. 
On their way to the 2017 Women's Challenge Cup decider Sion Swifts Ladies defeated Linfield Ladies (2-0), Cliftonville Ladies (2-3) and Crusaders Strikers (1-1 AET, 8-7 penalties).
And their cup final opponents from Newry beat Mid-Ulster Ladies (1-10) and Glentoran Belfast United (1-3) before receiving a bye to the final after Carnmoney Ladies withdrew from the competition at the semi-final stage.
Two goals from Northern Ireland international Kendra McMullan secured the trophy for Sion at the National Football Stadium.
McMullan broke the deadlock in the 73rd minute with a sweet strike from 25 yards and then three minutes later she grabbed Sion's second when she latched on to a loose ball just inside the area and smashed a low shot into the bottom corner of the net. 
The entry fee for the 2018 competition is £20. Clubs should click here to enter this year's Electric Ireland Women's Challenge Cup.