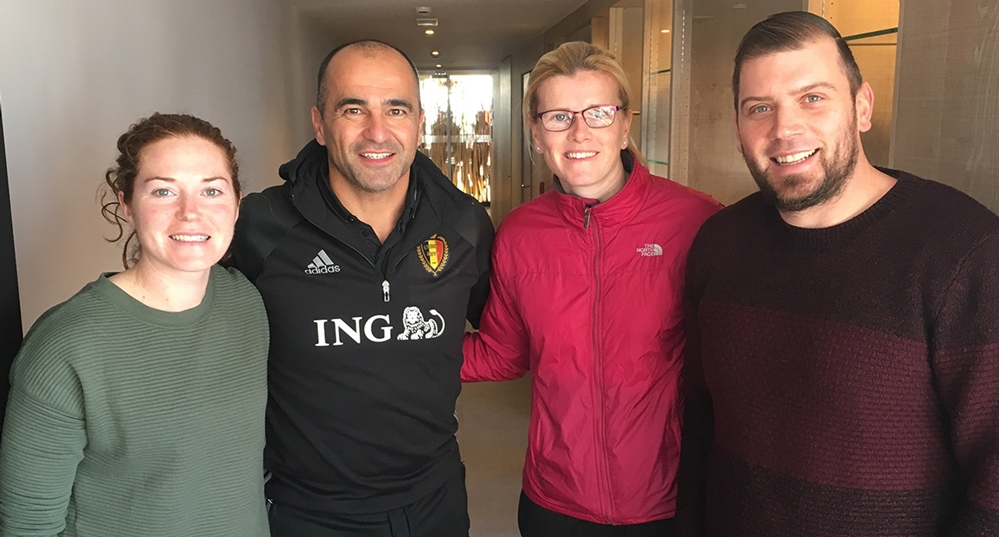 The Irish Football Association sent a five-strong delegation to a UEFA Women's Football Study Group gathering in Belgium.
Representatives from the Spanish, Swiss, Lithuanian and Luxembourg football associations also participated in the visit hosted by the Belgian FA in Brussels.
Kris Van Der Hagen, Director of Coach Education at the Belgian FA, welcomed the Northern Ireland delegation, and they also met Belgium Manager Roberto Martinez.
The IFA group included Director of Football Development Michael Boyd and Senior Women's International Manager Alfie Wylie. IFA Women's Football Ambassadors Marissa Callaghan (current captain of Northern Ireland) and Julie Nelson (who has played 98 times for her country) plus Regional Excellence Coach Ryan Mullen also attended the event.
Topics covered by the group included an overview of women's football in Belgium, a practical session looking at high potential Belgian teams, the Belgian FA's DNA and playing philosophy plus a visit to the Belgian FA Women's Academy.
Each participating football association delivered a presentation on their development work in the women's game. Alfie Wylie provided the commentary on the progress being made in Northern Ireland.
Michael Boyd said: "We learnt a great deal listening to the Belgian FA. In 2015 Kris Van Der Hagen contributed to the development of Let Them Play, our 10-year youth football strategy which has the growth of girls' football as a central component, so it was great to catch up with him again.
"It was interesting to see how the Belgian Football DNA document influences their player development and coach education support programmes.
"In Northern Ireland we are making good progress developing the girls' game and we are currently consulting on the development of a new girls' and women's football plan so this trip came at a good time. This study trip has given us plenty of ideas on how to move things forward in Northern Ireland."
Julie Nelson said it was a great experience learning from Belgium and other countries at the event.
And Kris Van Der Hagen said the Belgian FA was delighted to share its experience with the IFA delegation and applauded the IFA on its work in developing women's football.
Image: Belgium manager Roberto Martinez with Marissa Callaghan, Julie Nelson and Ryan Mullen.